Configurability is an important feature of all our conveyors, and the Multi-Strand Transport Conveyor from Glide-Line is no exception. The Multi-Strand Transport Conveyor is a material-handling solution of two or more strands (including odd numbers), transporting panel-like products or large, platform-type fixtures from workstation to workstation.
With the addition of our Roller Lift Transfer Unit, transport conveyors can be connected in many ways to suit a variety of assembly system requirements. Here are three reasons you'll love this conveyor for your assembly automation system designs:
1. Completely Configurable Conveyor
This conveyor can be configured to any width necessary, adding as many conveyor strands as necessary (our largest is 15+ strands, 24 feet wide!) to accomplish your client's automation operations.
Instead of your client using multiple dual strand conveyors together to make it as wide as necessary, the Multi-Strand Transport Conveyor from Glide-Line allows you to use odd numbers. You're able to customize the width and configure the overall size. This is driven off of one motor; if you were driving multiple dual strands, you'd be driving with two motors. This one is typically more cost effective and uses fewer controls.
You're able to configure exactly what you need using IMPACT!, our in-context configurator. Using IMPACT!, just like with our double strand conveyor, you will be able to specify exactly what you want, right down to specification of breakpoints, drive location, drive orientation, and dozens of other important details.
2. Support for Wide Products
Our clients have used the Multi-Strand Transport Conveyor for large flat panels such as photovoltaic solar panels and garage doors, as well as sheet goods like plywood and drywall. In addition to being wide, some of these materials are also fragile - handling with care to ensure they are supported throughout the automation process is most important. Full support under the product ensures that the product won't crack or sag in the middle. Several belt materials are available to service a wide range of pallet-handling conditions, from fragile, easily scratched products to more robust manufacturing equipment.
3. Flexibility for Multiple Processes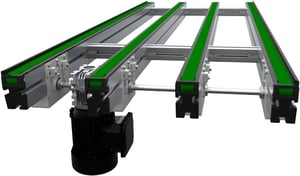 The Multi-Strand Transport Conveyor consists of multiple single-strand timing belts (as many as your customer needs). The conveyor can transport product bi-directionally all in one straight line, and this application would quickly and simply attach to others if more directions were needed. Because the strands are configurable, the multi-strand system can support multiple product sizes; the products justify to one side, with some products take up one to two strands, and some taking five, for example.
Our client who transported solar panels was able to use the same Multi-Strand Transport Conveyor unit to move small 16"x16" panels and large 5'x5' panels on five strands thanks to the T5 timing-style conveyor belts. These belts are made for positive drive and precision positioning ability.
Additionally, the Multi-Strand Transport Conveyor can be certified for use in clean room environments, and anti-static conveyor materials are available to suit operations in static-sensitive areas or with static-sensitive payloads.
More features our integrator customers and their clients appreciate include:
Easy Maintenance: All maintenance operations, including belt changes, can be performed from the top of the conveyor, eliminating the need to disassemble or remove ancillary equipment. The conveyor also utilizes all precision ball-bearing-supported rolling elements for long, maintenance-free operation.

Specifications: The speed range for this conveyor unit is 3.5 to 70 m/min based on a 1750 motor RPM. Additional motors can be added for lower friction and more power if needed. The multi-strand conveyor supports 250 lbs. per strand
The Multi-Strand Transport Conveyor is configured to precisely match your customer needs. We invite you to challenge us to find a product that doesn't work! Seriously. Contact us today to learn more from our team of experts.