Glide-Line's Low Cost Mini VTU is a simple, cost-effective option for a vertical transport unit (VTU). If your client doesn't have a height limitation for their product, or is returning empty pallets, this VTU may be the right fit.
Challenges Solved
Cost
This VTU's defining feature is its low cost. Typically, VTUs can cost up to $10,000 for one unit; Glide-Line's Low Cost Mini VTU is less than half the cost. While this VTU has a limited z-axis stroke, the simplistic design reduces the cost dramatically.
Space
Built for those who are looking for minimal use of space (as well as cost savings), the mini VTU is a great fit. The Low Cost Mini VTU is a simple, short stroke unit for limited vertical stroke applications. It's pneumatically actuated with a maximum 112mm clearance for the pallet and product on lower level. Most often clients use this over/under system to return empty pallets, so this works fine for most of those applications. It's built for lighter loads, maxing out around 150 lbs. for pallet, fixture and product.
Powering the Low Cost Mini VTU
The lift portion (z-axis) of the Low Cost Mini VTU is powered pneumatically. Your client controls the two points at which the VTU lifts and lowers within its clearance range.
The conveyor mounted on the Low Cost Mini VTU is powered using either AC or DC power; we offer this flexibility to ensure added control of the conveyor motion in whatever way your client needs. Using AC or DC power appeals to clients because this can be customized for their automation process.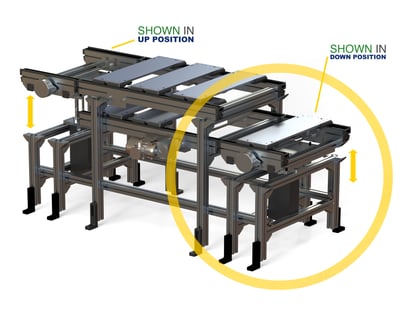 Three features set this VTU apart from other, standard VTUs.
First, its simplicity makes the Low Cost Mini VTU significantly faster to build (since it's built from standard components assembled in an innovative way) and easier to maintain.
Second, this VTU has a much lower cost point than other, standard VTUs.
And finally, if your client has a space constraint, this may be the solution since the whole device is very compact. Applying the Low Cost Mini VTU can save both space and costs.