When you create a model and price a conveyor project to develop a proposed solution for your client, a huge time factor can be the engineering process while you're in the initial design phase. From preliminary design, to pricing, to changes, to more pricing, each step can take hours or sometimes days when you're dependent upon a manufacturer's engineering team for answers.
Here are five ways to control your conveyor project engineering process and dramatically reduce the timeframe, creating a quick conveyor lead time.
1. Use an in-context configurator.
In the initial design phase, applications engineers typically spend hours downloading and configuring the CAD blocks provided by a conveyor systems manufacturer (or using old blocks from previous projects that aren't necessary accurate). Mating them in SOLIDWORKS takes additional time, and once done, it takes additional time to wait for pricing from the conveyor manufacturer's sales rep. The entire process starts over again when the client needs changes or a part doesn't work in the overall system layout.
What if you could reduce the entire engineering process for automated conveyor systems by 70-90%? You can.
Using an in-context conveyor design software like Glide-Line's IMPACT! software, applications engineers can easily create the conveyor application model their clients need in Excel-based software that updates mated files on the fly – directly in SOLIDWORKS. With just a quarter of the engineering time and instant pricing, IMPACT! can truly, positively impact your day-to-day work.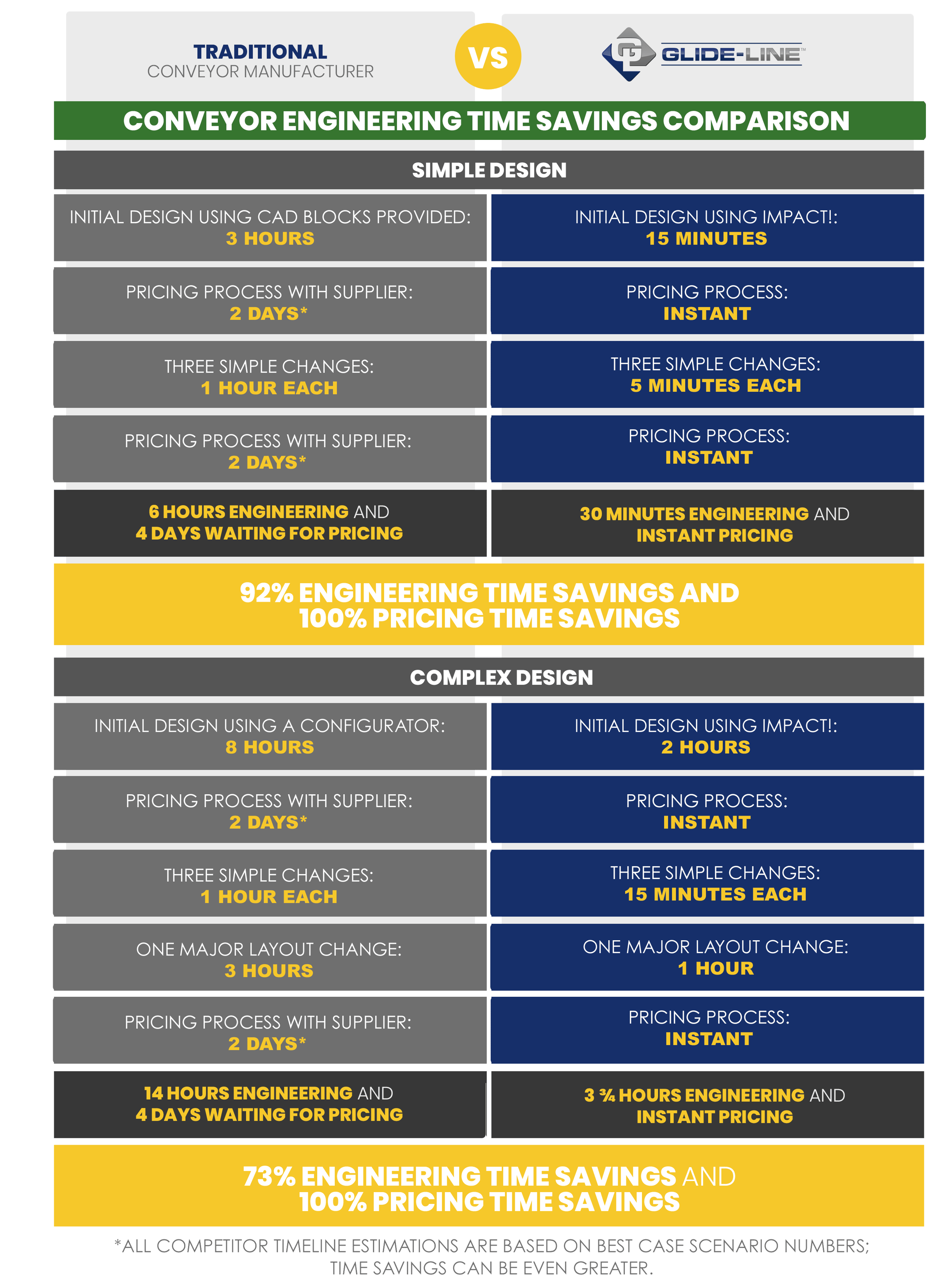 2. Choose standard instead of custom configurations.


Choosing from standard automation conveyor systems options will cut down on lead time compared to choosing custom options. Most conveyor systems manufacturers have the ability to customize any part required, but customization can double or triple the lead time if the necessary pieces aren't in stock.
Applications engineers and their clients experience up to 40% time savings in lead time by designing using conveyors that are more flexible compared to other manufacturers' available options. And that time savings is even greater when compared to building a completely custom solution from the ground up.
Use the conveyor manufacturer's standard equipment (motor, gearbox, lifts, pallet sizes, and belt materials) for the most efficient assembly.
3. Design using in-stock parts.
Many conveyor applications manufacturers order parts from other manufacturers each time a new automation conveyor is ordered; they don't necessarily stock the parts. Speed up the conveyor system lead time by ordering standard conveyors that require in-stock parts and are highly configurable; this keeps the lead time as efficient as possible.
When the design matches a manufacturer's standards, the building phase goes much more quickly.
When you've selected a flexible conveyor system like Glide-Line's, even more parts are considered standard. For instance, we Glide-line has no standard widths - all are made on demand and just as quick as each other. In this case, the shaft and crossmembers are cut to order. These design and manufacturing techniques shorten lead times by eliminating additional design time using IMPACT! and eliminating complex sourcing and fabrication operations often used by other manufacturers.
4. Minimize changes.
Prevent delays in lead time by planning as much as possible on the front end. Using a traditional conveyor manufacturer's engineering team for changes can trigger a significant increase in lead time. When working in your model, even a simple change with a traditional conveyor manufacturer's CAD blocks can take fifteen to twenty minutes per change; with Glide-Line's in-context configurator, IMPACT!, each change could be done in seconds. Fewer changes equals less time, no matter the manufacturer.
5. Select pre-assembled conveyors and automated conveyor systems.


Typically, clients employ an engineer to oversee assembly the conveyor you've ordered. It arrives as a box of parts shipped to your client's warehouse in intermediate sections – chains, belts, cross members, drives, and other pieces. This added complexity and time for the conveyor project causes delays and can lead to incorrect assembly and other issues. This requires additional assembly drawings, supervision and time to complete.
Instead, look for pre-assembled conveyors shipped from a reputable conveyor systems manufacturer to cut down lead time. Your client can see time savings of 25-50% from this single step.

Dramatically reduce your conveyor project engineering process and lead time when you choose the right conveyor applications systems manufacturer for your needs. Learn more in our ebook on the subject: How to Cut Conveyor System Lead Time in Half.