In situations that require handling products directly on the production line, conveying and lifting items without a pallet may require special consideration. Engineers who build and manufacture awkwardly shaped products often have challenges when automating certain processes. In these situations, it becomes costly to customize equipment to suit special use cases.
The challenges with

traditional roller conveyors

include:
Increased costs when building a wider conveyor for wider products (long rollers become really heavy to prevent deflection)
It can be difficult to integrate product-handling features into the system
Limited automation and product manipulation capabilities
With multi-strand direct product handling conveyors, you can move your items efficiently through different stages of the manufacturing and assembly process. For engineers who need a direct product handling solution, this blog will discuss different material handling conveyor equipment that will enable you to convey, transfer, and lift non-palletized products safely and automatically through your facility.
Material Handling Conveyor Equipment for

Non-Palletized Products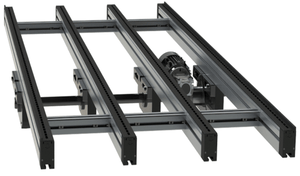 Multi-strand conveyors allow engineers to configure a system that matches the dimensions of the product by adding additional strands to precisely accommodate the application. Standardized customizations enable you to manipulate the product to perform any work during the production process, giving you optimum orientation, access, and presentation.
When looking for a solution that can handle products like tire assemblies, windmill blades, or even garage door panels, consider the conveyors and material handling devices below.

Zero Contact Zoned Conveyor
For applications that require precise control over every stage of the conveying and manufacturing process, a zero contact-zoned conveyor provides high-friction and 100% zone control to prevent products from ever touching. The design uses an end-driven conveyor to accommodate the soft durometer belt with rubber coating for maximum friction.
The Zero Contact Zoned Conveyor allows:
Precise control for products that need to accumulate on the line without touching
Dampened starts and stops to provide smooth indexing of non-palletized products
Design flexibility with different drive types, including AC, DC, or servo

Centerline Adjustable Conveyor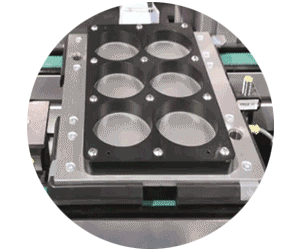 When you need to change the width of the conveyor for different product runs, consider a centerline adjustable conveyor. Instead of having to adjust the guide rails manually, you can adjust the width of the conveyor according to your product's dimensions quickly.
The centerline adjustable conveyor provides:
Flexible design that can accommodate different widths of products quickly
Ability to adjust the width manually, electrically, or pneumatically
Available with dual-sided and single-sided adjustment options

Lift Devices for Direct Product Handling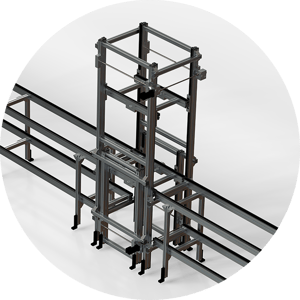 Vertical transfer units allow you to lift products to any height. Completely customizable, you can design the unit to solve any type of lift (even moving products between floors if necessary). The vertical transfer unit can have one or many stops and accommodate any number of infeed or discharge conveyors.
Additionally, you can customize the system with bypass stations, storage feeders, or machine tending stations according to your production needs. A range of standard customized solutions makes it possible to manipulate your products directly to avoid bottlenecks, improve ergonomics, and automate your manufacturing and assembly processes.
Some of the solutions available include:
Lifting and Conveying

Non-Palletized Products

with Glide-Line
For any kind of application, you can combine these devices and material handling conveyor equipment to solve your manufacturing headaches. Glide-Line helps our customers solve unique production challenges every day. Our modular approach ensures you can design a suitable direct product handling solution that is economical, efficient, and effective.
For more information about our innovative direct product handling solutions, get in touch with Glide-Line today