In situations where application engineers have an opportunity to design a new conveying system (and where there is a need for handling wide products), there is a cost-effective alternative to the industry standard roller conveyor available. Glide-Line's multi-strand timing belt and multi-strand roller chain conveyors are an economical solution compared to traditional roller conveyors, especially when you're manufacturing wide products.
Challenges with

Roller Conveyors for Wide Products
The design specifications for wide product conveying systems need to consider everything from the roller diameter, wall thickness, and shaft size to the load type and radius' required for curves required. Making the wrong selection or failing to address all the constraints – such as product behavior, control, and the manufacturing environment – will cost the company time, effort, and possibly a lot of money.
Traditional roller conveyors are appropriate for many production lines, but when you have a wider product, they can get expensive, come with width limitations, and can be subject to roller deflection, unless they are massively upsized.
Some of the key challenges application engineers face are:
Roller deflection - the main issue with wide roller conveyors, which is primarily solved by upsizing roller diameter (expensive)
Difficult to maintain, as you have to inspect and many times lubricate each roller, shafts and bearings to ensure they move smoothly and uniformly
Drive chains prone to abrasion, rust, and excessive wear (especially in dusty environments) and drive belts suffer from slippage
Uneven loading of the drive chains (for bulkier products) that further wear the rollers, drives, and other mechanical components
And typically, when the system includes other design elements like curves, transverse lifts, the cost of purchasing the conveyor will also increase exponentially. An alternative solution like a multi-strand timing belt design can overcome most of these challenges.
How Glide-Line's

Timing Belt Multi-Strand Conveyors

Can Assist
A modular, multi-strand timing belt conveyor system is much less expensive (to buy, maintain, and modify) compared to traditional systems. When specifying for a customer, application engineers should highlight the decreased cost as one of the main benefits of a multi-strand timing belt (or roller chain) conveyor system.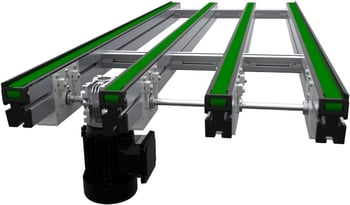 There are no practical width limitations, and the synchronous timing belt drive provides positive tracking for smoother control over the length of the system. With Glide-Line, you'll also get an open center design allowing you to both convey specialty products without interfering with the system's components, and access your parts from the bottom for RFID registration, inspection, or access.
Additional benefits from multi-strand timing belt conveyors include:
A wide array of

customized material handling solutions

(VTUs, rotating decks, machine tending solutions, and transfer bridges)
Option to add special friction topped timing belts with end drives, for applications where you require more friction (lead time adder)
Precise control over the entire system, including

Zero Contact Zoned Conveyors

for gentler product handling
Easier to maintain and inspect (saving time and money for the facility)
Moving Wide Products

with Glide-Line's Multi-Strand Timing Belt Conveyors
Glide-Line's modular design allows you to configure the ideal conveyor system for wide products, and you can include a range of material handling solutions at any stage on the line. The multi-strand system can support any width product (we've done up to 24 feet wide!). If your product is heavier, we use our same basic multi-strand concept, but use a roller chain drive system instead, making it a heavier-duty solution without the need for bulky rollers.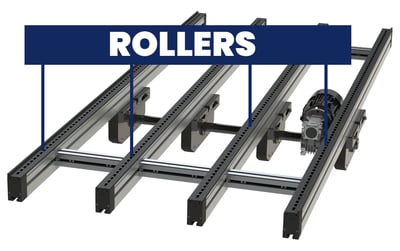 Our Roller Chain Conveyor can be seamlessly integrated into a production line in conjunction with our traditional timing belt conveyors due to the fact that they both share a common 45mm Aluminum Extrusion. This can save you money when appropriate for use. With Glide-Line, you get increased control, lower energy consumption, and a gentler wide product conveying system at a cost-effective price.
To discuss your wide product conveying requirements with one of our application engineers, reach out to Glide-Line today.