Conveyor flexibility in an automated conveyor application is the ability to adapt an existing standard product as opposed to building and customizing a solution from scratch. Flexible solutions fit multiple needs, take less time to engineer, manufacture and assemble, are less costly, and can often accomplish your goal more efficiently without compromising the design.
As our President, Kevin Mauger puts it...

As a result of our commitment to flexibility in our conveyors, we're able to be much more collaborative with applications engineers and designers. We're not tied to the norms in conveyor solutions; we're able to break boundaries in design and technology, bend rules in conveyor manufacturing, parts, and assembly, and inspire unique solutions for our customers.
Traditional Conveyor Rules

We've Broken
RULE

1

that we've broken:
You must design around maintenance access points.
Innovations in conveyor belt applications have been made in recent years. Instead of disassembling entire parts of conveyors to access the underside, Glide-Line's conveyors are easily accessible by simply removing and reinstalling the belt from the top of the conveyor. Belt replacement is significantly faster and easier than all other methods. Maintenance mechanics love this, pure and simple – and this gives designers much more freedom when designing any peripheral equipment.
RULE 2 that we've broken:
You must engineer machinery around the conveyor and its parts.
We have removed this rule altogether by standardizing products configurable to any situation or need, leading to faster lead times, faster assembly, and lower costs. We collaborate with our clients' applications engineers and understand their needs – far more than they expect us to! The variety of parts available, the flexibility of our conveyors, gearboxes, motors, and additional parts, means you're no longer held back by "standard" conveyors available. Creativity can dictate your design. Your conveyor is bespoke, designed specifically by you, for your client alone, and there is never another exactly like it.
RULE 3 that we've broken:
Configurations of a conveyor design must involve engineers from the manufacturer.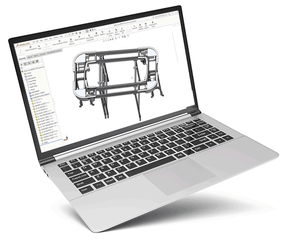 Customizing a conveyor typically drives the process through a manufacturer's engineering department to design and detail customized parts not stocked. This all contributes to longer lead times and higher costs. In most cases, this is not the case with Glide-Line. Using our IMPACT! configurator technology, the only engineers required are your own. You're able to design, update, and change any conveyor solution you create, pair it in SOLIDWORKS, and receive instant updated model numbers and pricing – all without consulting an engineer from our manufacturing team. This configuration drives our manufacturing process and we've skipped a time-consuming step, saving time and cost.
RULE 4 that we've broken:
Delivery of a conveyor must be open-ended and piece-mealed for assembly.
By this time, you're aware that flexibility = creativity when it comes to your designs. But flexibility also applies to the logistical side of conveyors. We've reinvented the manufacturing process, starting from the moment an order is placed, to cut the time in half from order to delivery. And, we deliver a fully-assembled conveyor directly to the manufacturing site, eliminating the need to use an engineer's time to document and supervise assembly of the system after delivery.
How Innovations Keep Solutions Growing at Glide-Line
Glide-Line is an employee-owned company focused on innovation to meet customer needs and working to systematically change the world of multiple strand and pallet-based conveyor systems. Each employee has a stake in making sure we're being innovative, breaking barriers, and making our customers happy by taking on unique projects.
We've broken industry rules. We're doing more things with our conveyors due to our flexibility than people are able to do with our competitors, at least without customizing a solution from scratch. We've brought innovation to the market with unique automation conveyor applications.
Applications engineers need the ability, even in the conceptual stages, to deal with rapid changes and layouts. Each and every one of our conveyor systems was created because a customer needed the flexibility – and they weren't the only ones. Our collaborative approach, from challenging our clients to get to the root of each conveyor need to assisting with outside-the-box solutions, is what our clients value about working with us.