A revolutionary innovation for pallet and workpiece handling designed to simplify complex processes, untangle convoluted layouts, and reduce costs, Glide-Line's unique Drop & Rotate Unit (DART) is a specialized hub. It's been specifically designed to maximize layout efficiency and reduce complexity and cost.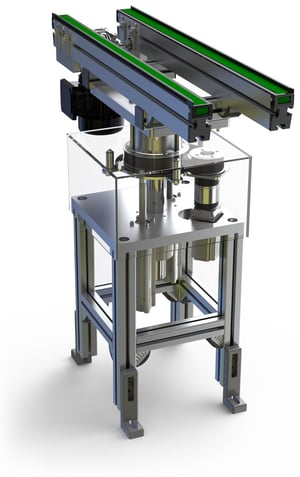 The DART has many applications. Some of these include transferring products to transverse conveyors positioned at any angle, and conveying long pallets around angles or corners while maintaining orientation. Because step-servo motors control the angle at which the conveyor rotates, customers are able to program any angle needed to accommodate their process and products. Here are some examples:.
1. Reduce Custom Complex Systems for Maintaining Pallet Orientation
The Drop and Rotate Unit from Glide-Line replaces pricey complex custom systems you might otherwise be forced to design if your client has a unique automation process requiring unique turns or using challenging L:W ratios.
One of our current clients, a manufacturer of solar panels, has multiple turns within their assembly line. To avoid damaging the product, it's imperative the glass panels make it around those angles without changing orientation.
DART simplifies the process for our customers like this solar panel manufacturer with multiple product sizes. The device is capable of operating with more than two strands of conveyor, which is ideal for handling heavier pallets and large panels. This particular client uses multiple center line adjustable conveyors together which, when combined with the DART, enables the largest panels to be transported through the process without changing orientation, no matter the size.
2. Manage Complex Traffic Control Conditions
Used as a centralized hub, DART can help solve complex pallet and workpiece distribution challenges. It's a convenient traffic control device and can help your customers manage complex automation traffic flow needs. If a client needs the pallet to stay in the same direction all the way around a rectangular conveyor loop, for example, they could use Curves. However, Curves are limited in weight capacity. Instead of inefficiently using space with a turner, DART gives the same effect as a turner or a Curve but handles more weight.
3. Simplify Pallet Handling
The Drop and Rotate Unit simplifies pallet handling by utilizing standard conveyor mounted pallet stops and accessories. Additional customized materials and parts aren't needed. Dropping the conveyor under the product while the product is suspended on stands or rubber "feet" allows the product to maintain its orientation onto a lateral conveyor as it turns a corner, simply and easily. And, the device does not disrupt the space between the conveyor strands, so all of the standard conveyor mounted stops and accessories can be used.
4. Cost-effective Transfer Unit
Use the DART to rotate and transfer in a single station. Using a single DART unit to change from a forward line to a return line where two lines are available is an innovative use of this device; the DART device can easily transfer the pallet or an entire conveyor from one line to the other to change directions. This is more cost-effective than using typical lift transfers units.
The DART system is a floor-mounted, powered conveyor that can rotate from 1 degree to 360 degrees to accomplish almost any angle transfer in a system, including conventional right angle transfers. The pallet can either rotate with it (changing orientation) or stay static (maintaining orientation). With this new design in your overall layout design toolbox, Glide-Line's DART will allow for endless opportunities and maximize assembly workspace efficiency.
Clients love the innovative DART for its:
Servo driven rotation for smooth, rapid and precise positioning

Static center plate available to maintain workpiece orientation during right angle transfers

Smooth pneumatic vertical motion with integrated adjustable air cushions
Ability to allow development of higher-level automated systems at lower relative cost

Standard conveyor and device parts