Unable to get the conveyors it needed to address customer demands, a system integrator sets out to address the problem on its own and ends up creating not only a new conveyor product, but a different way of designing and manufacturing conveyor lines.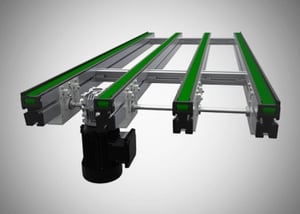 As an automation systems integrator focused on designing and building conveyor systems for the food and ophthalmic lens industry, along with the associated control panels and devices, NCC Automated Systems has more than 25 years of experience developing conveying systems for food processing, packaging line integration, and optical automation. Every business encounters difficulties when it comes to delivering services for its customers, but NCC Automated Systems found itself encountering a specific problem again and again.
"We couldn't get parts or deliveries for assembly-based conveyors", says Kevin Mauger, NCC Automated Systems' president. "On top of that, we often couldn't get answers and were just struggling with our partners as a whole. So early in 2012 we completed our research and set out to build this style of conveyor system."
Later that same year, NCC Automated Systems had completed its first prototype. At that time a customer came in to visit the company for a completely different project and saw the prototype. "He asked us where we got it [the prototype] and we told him we made it," says Mauger. Facing the same frustrations with conveyor line parts and deliveries as NCC Automated Systems, this customer "promptly ordered a huge amount—around 100—of the prototype system."
The prototype that NCC Automated Systems created has become the Glide-Line multi-strand and pallet handling system.
Mauger notes that the Glide-Line conveyor itself is not particularly unique in the conveyor market. What differentiates Glide-Line the most, Mauger says, is its software design tool and digital manufacturing process that allows Glide-Line to offer numerous standard configurations—more than 75,000 of them. "Plus, we're flexible and are willing to do unique things, even if the design is outside of what can be created with the configurator," he adds.
The SolidWorks configuration tool, which Mauger contends is Glide-Line's most unique aspect, has a "built-in design table that allows users to make changes live—called in context—and gives them updated pricing and part numbers within the SolidWorks program," he says.
By giving users a basic model that can be configured on the fly in the context of the model, the SolidWorks configuration tool saves a lot of time versus typical online 3D CAD configurators that "require a lot of downloading, inserting data, and repeating steps over and over again when changes have to be made," Mauger says. "Engineers love this aspect of the system, especially the fact that when they've designed their unit with the configurator, it is completely spec'd out down to the part number. We then use this part number to enter into our manufacturing system and don't even need to go through any design process internally. We can release the order to the shop in minutes. This is a very unique part of our offering. I don't know anybody else who does it this way."
Though Mauger contends that the software configurator is the biggest differentiator for Glide-Line in the conveyor market, other aspects that help set Glide-Line apart include:
• Service work, including a belt change, can be done from above without removing fasteners;
• A belt change can be done in minutes;
• Use of T5 timing belts with steel tension members for positive drive and durability;
• All rolling elements are precision ball bearing supported; and
• Customers have the option of using of a 24V dc direct drive to eliminate use of a gearbox and connecting shafts for greater design flexibility
"Selling to the assembly market is a challenge due to the fact that customers don't know our name and reputation as they do in the food and optical industries, and some builders are also concerned that NCC is an integrator," says Mauger. "But they certainly don't need to worry about this. Glide-Line is a different business unit and we have no interest in trying to be an integrator in this market."
Mauger adds that its Glide-Line's policy to never sell to end users served by the Glide-Line business unit. "Our goal is to find partners for whom we can supply conveyors and devices and allow them to handle the integration," he says. "With our roots in integration, we understand what our system integrator customers need, how they need it, and what it takes to be a good supplier."