Whether your client's operation calls for stamping, forming, welding, or even swaging, the challenge of weight distribution for large products or pallets can be an issue when performing operations on a conveyor line. Instead of requiring a move to a workstation off the line, consider Glide-Line's Heavy Duty Lift and Locate.
The Heavy Duty Lift and Locate device is a precision station-locating device. It is built to support extremely heavy pressure from press operations where heavy force is needed. The weight from the pressure is transferred to the conveyor or device with the help of the floor-mounted Heavy Duty lift and Locate device, and the operation can be performed directly on this device.
On Glide-Line's Heavy Duty Lift and Locate device, the lifting motion is pneumatic to raise or lower the pallet with precise positioning, giving the operator complete consistency of motion and controlled, smooth movement.
Force Control
Our device can lift heavier pallets than our competitors' can. We also separated the lift force absorption into two actuators so we can absorb more force. This gives our customers more flexibility and control over what's happening.
Our unit features a very simple, clean design. With our design, we have the room to add support posts in any positions that are needed application to application. De-coupling the system gives our customers a lot more flexibility for their automation system designs.
Finally, we have a uniform lifting force; in our competitors' devices, the initial force is significantly less than the ending force. A uniform lifting force keeps the motion smooth and enables the device to lift larger pallets.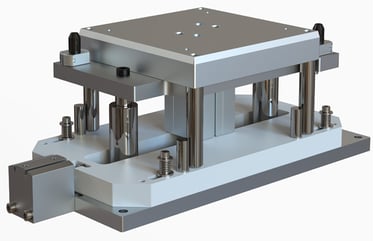 The Heavy Duty Lift and Locate device from Glide-Line gives more control over the actuator behavior. It also provides more load absorption capacity than other units. Here are some additional specifications:
Lifts and locates pallet 1.5mm above belt

Lateral and vertical location repeatability within .05mm

40mm bore lift cylinder

Lift capacity – 150 Lbs. @ 80 psi

Load absorption capacity when in locked position starts at 20,000 lbs

Pallet length range – 160mm – 320mm in 1mm increments

Pallet width range – 160mm – 320mm in 1mm increments
Position Accuracy
The Heavy Duty Lift and Locate Unit delivers repeatable positional accuracy within ±.05mm. The vertical lift position is fixed at 1.5mm above the belt. This unit utilizes a pneumatic shuttle that slips between the baseplate and the lift anvil once the pallet is raised into position. Heavy Duty Units must be station-mounted on suitable structures to absorb the required loads; accuracy and repeatability are relative to the mounting structure.
No Size Restriction
Though our actuator is smaller than our competitor's, it does not matter. Our actuator takes up less space and there is no size or capacity restriction to the pallet or product size the Heavy Duty Lift and Rotate can handle. The device is easily customizable to whatever size you need, and does not cost you more. The load-bearing surface area is customizable down to the millimeter and can be significantly larger than others' lift and locate device surface areas.
All-Over High Pressure
The unit is designed to handle heavy loads for press operations such as swaging and ultrasonic welding. Our competitors' have a heavy duty lift and locate device, but as the pallets get larger, they can only handle the pressure at the center of the device. This is not ideal for large products or those that require pressure on the entire large pallet.
The Heavy Duty Lift and Locate device from Glide-Line can handle a distributed load across the entire pallet surface. It can also handle pressure off-center about 20 degrees, making it multi-functional and flexible for multiple operational needs.
Our Heavy Duty Lift and Locate device is simple. It's easy to maintain, more straightforward to operate, and more straightforward to implement. It also gives your customers added flexibility down the road; the unit is upgradable if something in the load changes later in the process. Solve not only weight distribution challenges, but flexibility challenges too with the Heavy Duty Lift and Locate from Glide-Line.