Multi-strand (usually twin strand pallet-based) conveyors continue to be a cornerstone in today's assembly automation conveyor systems. But many manufacturers have slowed or even stopped innovations to these popular tools, assuming that applications engineers will conform their designs to the existing production conveyor systems, rather than looking for better solutions that continue to evolve with today's customer products and processes.
Instead of limiting yourself and your multi-strand conveyor design to what you already know, introduce new concepts, configurations, and customizations to your customers' processes with the future of multi-strand modular conveyor systems: the unlimited solutions offered by the Glide-Line 360. Customizations aren't customer-unique; they're part of our intent and design for the product, so they're standard (and don't cost more or take more time).
Popular Configurations of Multi-Strand Conveyors
We covered some innovative configurations of conveyors in a recent blog post, but as a recap, here are some ways customers have utilized multi-strand conveyors in outside-the-box ways to meet their customer needs. For other manufacturers, these configurations may have required a custom build; that wasn't the case with our conveyors.
Combine a conveyor with an axis (or several axes) of linear motion

to utilize stacked multiple strand conveyors.

Use vertical transport units (VTUs) with a better design to increase capacity and functionality, while getting better motion control.

Utilize VTUs with multiple stop positions anywhere along the z-axis, creating opportunities for sorting applications or other multi-positional applications.

Significantly reduce back pressure using one small DC motor per zone that stops in each zone, reducing the backpressure.

Download our whitepaper on this exact use case to learn more.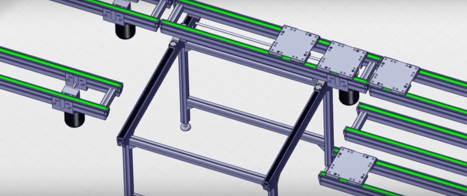 Many of these configurations are possible using the the Glide-Line 360, a combination of powered timing belt based conveyors. It's built to accomplish almost any type of movement (orientation change, sort, or shift) for your product, in a very small space. That's what we had in mind when we built it; we wanted to build an efficient highly configurable system that does exactly what your customers need, without paying an arm, a leg, and a left ear for customizations.
Rick Sabo, Vice President, Sales & Marketing, item North America, MB Kit Systems, summed it up best when he said, "As a provider of mechanical hardware solutions, item North America/MB Kit Systems Inc. sees multiple requests for complex material handling solutions. Clearly, Glide-Line always seems to know what customers need and the new Glide-Line 360 has unlimited solutions for a wide range of applications."
Check out our video series for even more examples of customizations offered as standards in the Glide-Line 360.
Applying the Multi-Strand Conveyor Customizations
Smaller products require only a dual strand conveyor working with a single pallet, operating as one unit. However, multi-strand conveyors have infinite possibilities for larger products. You're able to coordinate as many strands and pallets as necessary to fulfill your customer's end goal.
For example, when assembling industrial warehouse or garage doors, seven to eight conveyors may be used simultaneously for a fifteen-foot-wide door. Whether you need to move the door from one area to another for assembly then inspection, or you need to apply a second or third layer to the entirety of the door on a pallet system, accommodating the size for your customer's space is easy with multiple strands.
Options for Calculating/Recalculating the Cost of a Multi-strand Conveyor System

With a traditional configurator, calculating the cost of your multi-strand conveyor system frequently necessitates a discussion with the sales representative at the manufacturer. It could take hours or even days to receive pricing, and every time there's a change to the system, there's a change to the price. And, more waiting.
Ideally, you'd be using an in-context configurator instead. Not only does it allow you to mate your step file in SOLIDWORKS as you build your design, but it allows you to make significant or minute changes on the fly via Excel. The truly jaw-dropping part? All the calculations for your system are instant, the moment you make the change. You're able to find and quote pricing on your own, without waiting for a salesperson.
IMPACT! is Glide-Line's unique in-context configurator.With this conveyor design software, there's no lag time, and no waiting – as soon as you confirm a modification, you're seeing the impact right away as you're working through it.
Used as a centralized hub, the Glide-Line-360 can help solve complex pallet, workpiece and panel handling distribution challenges. By solving challenging traffic control situations, you're able to minimize the space needed for a multi-strand conveyor layout in a very cost effective manner. And, using IMPACT!, you can easily calculate the cost of that system.