Your client's automation process may require product elevation for a number of reasons. Visual inspection, part additions, or using a buffer to accommodate a slower process further down the line are just a few examples where a vertical lift conveyor application may be necessary. But why install a bulky, expensive application when you can accomplish what your clients' processes need within the lift itself? There are a number of other uses for an enhanced elevator (or vertical transport unit, VTU) on the line that you might not have considered in the past.
Improve Efficiency with a VTU
The mindset of using elevators to accomplish tasks within a process is different. It requires the ability to think creatively about solutions and think strategically about the ultimate goal of the process. For example, if your client's ultimate goal is to increase throughput, increased efficiency of the key processes on the line is the key to success. There are traditional ways a manufacturer may suggest improving throughput: adding lines and widening the conveyor system to accommodate the additional product. But, instead of removing a product to perform a new operation within a client's process, consider making a VTU an integral part of a modular conveyor system.
In the engineering world, you normally expect conveyors to move things horizontally on a flat plane, and to lift devices to return pallets or create aisles, you would use an elevator. Typically, you wouldn't think to use conveyors to move anything vertically in conjunction with process efficiency improvement. Glide-Line 360 is essentially a vertical conveyor, built with conveyor parts and moving like a conveyor – but with the added ability to lift products to different heights. Applying conveyor actions to vertical behavior is a new way of thinking.
Electric vs. Pneumatic Actuating
Our vertical conveyor VTU designs are electrically actuated, while many alternative conveyors are pneumatically actuated cantilevered designs. Cantilevered designs are inherently a weaker design than Glide-Line's four sided support system. Electric-driven lift movement allows us to control the vertical motion for smooth acceleration and deceleration. It also gives us the ability to position the conveyor deck precisely anywhere in the elevator with a smooth vertical motion. Faster, stronger, smoother, and more precise – exactly what our integrator clients are looking for.
We've applied the concept of the electrically actuated vertical lift application to a number of situations, solving throughput challenges for our integrators' clients.
Pass Products Through a Lift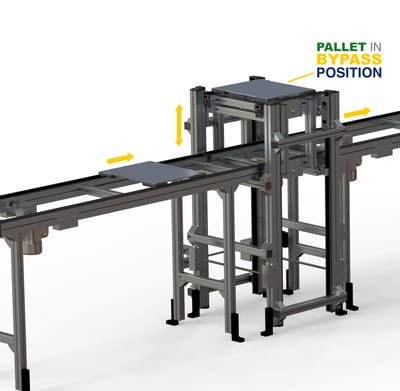 A pass-through VTU lifts product up and out of the way of the main line, allowing for downstream product to bypass and get ahead. While it's raised above the main trunk line, work can be completed on the lifted product.

A vertical transport unit (specifically, the Glide-Line 360 conveyor) can lift pallets from the main line while allowing more product to pass underneath the raised pallet. A function can be performed at the raised level, then the product can be added back to the operational process. This can be repeated at multiple levels, and at many points throughout the line. Typically, this process would starve the line and leave a huge hole in the system, but using the Glide-Line-360-based VTU concept, products can pass under the lifted pallet using a double deck elevator. Using access to different heights in the automation process significantly improves throughput without requiring additional space.
When multiple people need to complete the same process, picture two workstations directly next to each other when utilizing a pass-through VTU. A lift elevates a pallet from the main line to the first workstation at working height, while the conveyor continues and brings a second pallet to the another workstation on the main line and also lifts it to working height. Two can perform the same function simultaneously next to each other without causing a gap in the line, or pallets getting stuck behind another one while its operation is being completed.
Lift Slow Processes & Accumulation Above the Line
Using VTUs to remove slower processes from the main line also improves throughput. For example, inspection control can lift a defective product from the main line to make an adjustment or repair while good product keeps flowing underneath it using a pass-through VTU.
Another example is to use a VTU to accomplish vertical accumulation of products in an automation process where a slower section of the automation system downstream is working off the queues. Elevators can maximize certain assembly cells by keeping product ready to feed the cell.
Elevating your application can save space and can also have a positive effect on your clients' throughput. It does so by making the process more efficient and ensuring the process can remain on the same line without adding more steps. Learn more in our latest ebook, Innovative Ways to Create Customized Lifts and Vertical Conveyors.