When choosing the right conveyor for your client's automation system, lead time can often be a driving factor in selecting a manufacturer. In fact, choosing a conveyor systems manufacturer who can provide a quick conveyor system lead time can often make or break your project.
Choose an assembly automation conveyor system manufacturer who can help get your system up and running in no time. Here's how.
Start with research based on your end goal.
Most applications engineers will begin doing what they've done before, or begin by talking to industry contacts to identify a solution for a specific client. But there are different ways to solve conveyor problems today than there were in the past. In addition to industry experts and personal connections, we recommend talking to trade show representatives, conveyor manufacturer representatives, and even consulting Google.
Begin by searching for solutions to your client's main problem, without trying to frame it in reference to a conveyor solution you've previously experienced. This way, you're more likely to find new, innovative automation conveyor solutions you may not have considered.
Our recent ebook, The Ultimate Guide to Creating a Flexible Automation Conveyor Application Solution, gives numerous examples of flexible, unique solutions Glide-Line has designed for applications engineers who needed innovative designs. Download it here.
Select an application system.
When you're trying to decide what's best for your client's product, there are many options to consider. Roller chain, belt conveyor, roller conveyors, drive types and pallet types are all considerations you'll be making. One of the biggest decision-drivers is the amount of precision your client's process needs.
For example, a highly precise product process could require a zoned pallet conveyor to ensure that conveyor accumulation backpressure is managed effectively so the product doesn't get damaged when pallets accumulate back to back . Focus on finding a pallet conveyor manufacturer who has a solution to prevent pallets from hitting one another during accumulation.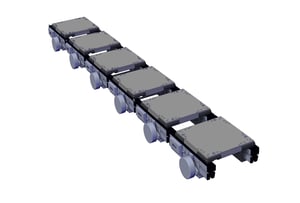 If you're looking for more precision, you'll want a timing belt. If that's not as important, a basic friction driven belt conveyor will do the trick. Whatever the goals are, the manufacturer you select should provide quick lead times on your chosen conveyor application. However, tension on a standard friction drive-based belt conveyor will eventually stretch the belt over time. Alternatively, a steel-tension-member-based timing belts are significantly more durable and require very little tension due to the toothed underside of the belt and positive tooth engagement at the drive.
Choose a conveyor manufacturer that offers many flexible options as standard.
Ensure the manufacturer you select can customize if needed, and do it as quickly as possible. The most efficient way to do this is to choose an automation conveyor systems manufacturer with unmatched flexibility in its standard options – enough flexibility to rival the number of customized options you could order. This way, you don't need to rely on customized lead times; you only need standard lead times.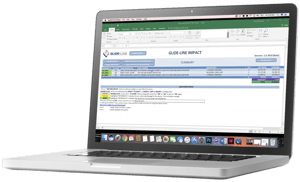 In addition to changing how the design process works, Glide-Line's in-context conveyor design software, IMPACT!, also improves the lead time in the manufacturing process. In decades past (and still the case for many manufacturers), once the order is placed, the engineering department would get involved to check everything requested in every order and many times release parts to procurement and to the manufacturing process; the technologies did not speak to one another to make the process faster.
Now, when using the in-context configurator, the wide variety of flexible conveyor models available from Glide-Line can go directly from IMPACT! into your SOLIDWORKS model, as well as into a manufacturing and fulfillment system without the need for engineering involvement.
Many parts are modular, and stored on-site, which also shortens the lead time. Additionally, for any parts or pieces machined on command, the configurator gives the information automatically to the machine operations without requiring detailed design or engineering. This is because of the use of parametric models driving machining operations.
Simplifying the designing and ordering processes have shortened the conveyor manufacturing and fulfillment lead times across the board for Glide-Line. We're focused on turning around orders as quickly as possible for our clients and their customers.
Select a manufacturer that pre-assembles their conveyor applications.
The level of assembly affects the time it takes to get your system up and running. Just check out our infographic on the number of man-hours it takes an engineer to assemble a component-based conveyor from a traditional manufacturer compared to a pre-assembled conveyor system from Glide-Line.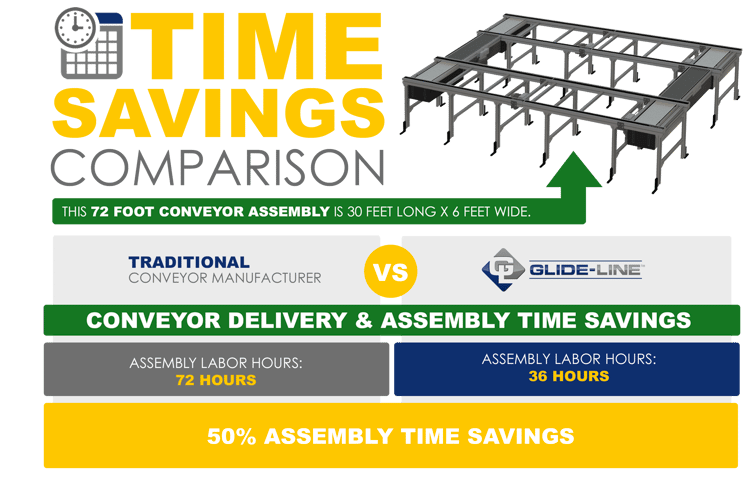 A traditional conveyor will require 72 hours of assembly labor hours once the conveyor system and its parts are delivered to your client's manufacturing facility. Glide-Line will require 50% less time.
Confirm that the manufacturer can deliver on-time, and on-budget.
Finally, confirm with the manufacturer that they will be able to delivery your automated conveyor system on time and on budget. No delays, no surprises. Your client can rest easy knowing that they've trusted you with their business, and you can avoid stress and hassles of dealing with open-ended delivery dates and potential up-charges.

For more tips on keeping conveyor lead times as minimal as possible, check out our ebook on this topic.