Throughput is the ultimate measurement of the effectiveness for your client's manufacturing process. To really wow them with your automated conveyor system design, focus on improving throughput in ways you haven't yet imagined with flexible conveyor systems.
A design using flexible conveyors allows you to meet or beat your client's throughput
demands, rather than compromising throughput to accommodate standard conveyor options. These are just three examples you're able to control and increase throughput through variations in your conveyor system design.
When a manufacturer implemented our Glide-Line 360 solution, transferring a slug of four to five pallets became 400% more efficient. This manufacturer was able to transfer the entire slug in one motion to another position, instead of dedicating a separate movement for each pallet. This solution saved significant time in the manufacturing process, increasing throughput for our client's manufacturing customer.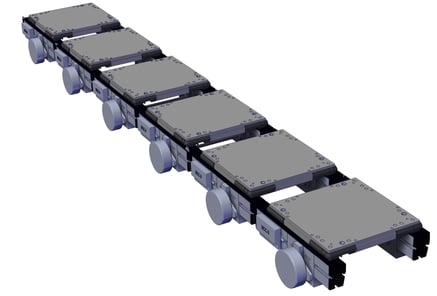 Typical efforts to hasten product manufacturing using conveyors have been a trade off of precision for speed. But higher throughput requires higher speed. So using our zero pressure technology, manufacturers using our conveyors are able to minimize shock loading on the product while maintaining high speeds. This also leads to higher throughput speeds while maintaining precise and gentle handling of products. The result is a gentler, more reliable conveyor increasing throughput for the manufacturing process.
Motor & Gearbox Flexibility
Capacity and speed are the two largest factors impacting throughput. Glide-Line offers a wide range of flexibility in gearbox designs that directly impact conveyor speeds for any product. The ratios in gearboxes range anywhere from a 7.5:1 gear box with a standard AC motor going 153 feet per minute to a 30:1 ratio going approximately 40 feet per minute.
Variations in motor types also impact throughput. Whether your client's process needs an AC, DC, standard electric, or servo-type motor to control motion or index a conveyor, a flexible conveyor can work with whatever your throughput targets and design require.
Throughput is a crucial measure of the value of a conveyor system, and these clever design ideas can be easily integrated with the right conveyor partner. Read more in our ebook, Ultimate Guide to Creating a Flexible Automation Conveyor Application Solution.