If your plant uses trays to convey parts or products, you may feel like tray handling within your assembly automation process could use some improvements. Trays, products, and parts are all susceptible to damage on the wrong conveying system. Prevent parts damage and product loss with these tips for improving tray handling at your facility.
Choosing the

Right Conveyor

for Your Assembly Process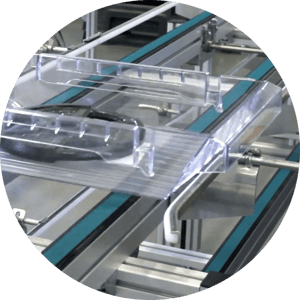 Using the same tray in multiple processes saves money on trays, or sometimes you have pre-designed unique devices that only work with your trays. There are several reasons you may opt to use your own trays.
Unfortunately, if you use the wrong conveying solution, it can pose some issues that create inefficiency in your assembly automation process. Common issues you might face include:
Compatibility issues with the conveyance medium and devices
Tray geometry or feature prevents the tray from riding on the belt properly
The tray has sharp edges
The tray has a non-uniform bottom
The tray size may be a non-standard size
The tray interacts differently with the conveyance medium when changing direction along the conveyor
The tray is susceptible to deformation when not fully supported
Fortunately, there is a way to improve tray handling within your assembly process with the right conveying solution. Here are some tips for choosing the right conveyor for your operations.
Consider Processing Environments
The type of operation determines which conveyor is right for your plant. For example, if you assemble products in a sterile processing environment, like for medical devices or microchip plants, you'll want a conveyor that enables you to maintain a sterile field.
For these environments, Zero Contact Zoned Conveyors significantly reduce particulate generation (particles rubbing off of belts or trays) since the uncoated white PU timing belts are not constantly running underneath the trays.
Also, the use of "controlled" movements rather than pneumatic stops reduces friction on the trays, ensuring those particles don't end up causing contamination or catastrophic damage to the products or devices.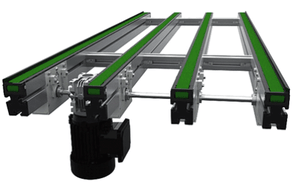 If your processing environment must accommodate longer and wider product handling, we have you covered there too! Glide-Line's multi-strand base systems allow you to configure your conveyor with as many strands as you need. Or use our fairly standard solution for tray handling, our twin-strand base conveyor designed to transport trays or products from workstation to workstation on two strands.
Transport large, platform-type fixtures or panel-like products. These systems are modular and connect in various ways to suit nearly any assembly system requirements. Finally, these conveyors are driven by DC pancake motors in conjunction with driver cards which simplified the control requirements.
Factor in Tray Strength and Product Fragility
Your processing plant can benefit from Zero Contact Zoned Conveyors even if you're not working in a sterile environment. Tray degradation from conveyor friction is detrimental to any operation using its own trays. Trays aren't cheap. You would prefer not to have to replace them frequently because you have the wrong conveyor.
For products more susceptible to damage, you'll want a conveyor that allows you to transfer the product without the risk of accumulating or destroying the products. Reduce loss and increase revenue with a zoned conveyor that gives you the control to protect your delicate products.
When operations require zero contact due to a fragile or sterile product, you can achieve a comparable throughput result using Zero Contact Zoned Conveyor as compared to a standard accumulation system.
For example, without zero contact conveying, risk of damage or contamination from products or parts jostling together during the accumulation process causes product loss, reducing throughput. With a zero contact system, products don't touch, reducing loss.
The Right Conveyor for Improved Tray Handling Is at Glide-Line
At Glide-Line, we offer a wide array of options to help support a special tray when transferring directly on our conveyors. We provide sizing for conveyor widths and lengths in one-millimeter increments to ensure you get a conveying system that can handle any tray and even most delicate products. Our Zero Contact Zoned Conveyor uses a twin-strand and multi-strand conveyor, depending on the width you need.
We design our systems to support large non-rigid trays and several custom features, such as custom external guiding, locating devices that can interact with existing tray features, and custom 90-degree transfer.
Time to get a conveyor with improved tray handling? Contact us today to learn more about our Zero Contact Zoned Conveyor or any of our many other conveying systems.