Sometimes working with wider products that are common in the aerospace industry, application engineers may need to get creative with a conveying system design that fits within the floor layout and various constraints. Additionally, material handling systems that convey aerospace products have other special considerations. They require smooth starts and dampened stops – and of course requirements to transfer and present products at different stations for efficient assembly operations.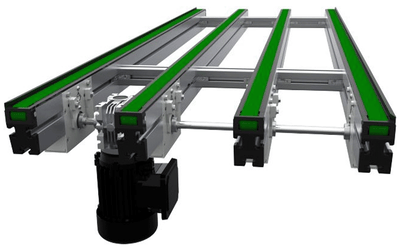 Glide-Line's multi-strand timing belt conveying solutions work well in situations where precise product control is essential at every point on the line. Floor trusses, plane wings, and other large components aren't easy to manipulate, orientate, or transfer using conventional conveying systems. For heavier loads, our multi-strand roller chain systems can support the additional weight from instruments, solar panels, radar components, or satellite parts. Glide-Line conveyors use a modular design and enable automated aerospace manufacturing to accommodate your specialty, wide, or delicate products.
Glide-Line's Roller Chain or Timing Belt Conveyor Design for

Efficient Material Handling in Aerospace Applications
Aerospace manufacturers depend on the accuracy and precise control of the conveying system to prevent damage from blockages or scuffs common on roller conveyors or plastic belt conveyors. A multi-strand conveyor can support any width of the product (you just add another strand if required), and Glide-Line can include a variety of custom solutions for product manipulation at different points on the conveyor.
With a multi-strand system, you don't have to convey the product with the narrow edge leading, as it is inherently easier to manipulate parts even with the wide-edge leading for some operations. If you're concerned about locating your parts (when you aren't using pallets), Glide-Line can also add locating features to the components for accurate tracking of each item on the conveyor.
Standard Customization Features for Product Manipulation
Glide-Line works with customers to accommodate any application. A timing belt based system shines where you need a quiet, smooth system that's easy to maintain and economical to operate. When the weight becomes too much for a belt drive, we can provide a roller chain system that can even use individually powered sections to convey a single load with expert control at each section.
For extra wide applications, Glide-Line can include a torque-tube shaft between two drive boxes, providing more rigidity for the drive shaft and control over the entire line. You can also implement a zero contact zoned system to ensure product safety across your material handling operations.
Additionally, we can include:
Vertical Transfer Units (VTUs) – Helps you reduce human interface points by automating the vertical transfer of a part by conveying up at any stage of the conveying process, like we did for this aerospace customer in the past.
Drop and Rotate Transfer (DART) Units - Provides precise positioning with a smooth and rapid vertical motion that doesn't violate additional space.
Autonomous Mobile Robot (AMR) Toppers and Framework – If some of your process calls for moving parts using AMRs, Glide-Line solves unique challenges by providing lightweight, efficient, and customizable AMR conveyor toppers.
You can combine these devices with additional solutions like tilting decks, bypass lifts, and rack feeders to expertly transfer, convey, and present aerospace products throughout the facility. Glide-Line's base conveying solutions give you the ability to manage expensive aerospace parts smoothly down the line, along with the flexibility to automate any additional material handling tasks with a range of standard or custom devices.
Partner with Glide-Line for Your

Roller Chain and Timing Belt Multi-Strand Conveyors
Glide-Line provides an economical roller chain conveyor design that is ideal for wider, bulkier products common in the aerospace manufacturing industry. We work with application engineers who need an efficient, cost-effective alternative to roller conveyors for their expensive products.
Our engineers can assist with any design requirement, and you can use our IMPACT! configurator to quickly get part numbers and prices. For aerospace manufacturers that need a precise product handling design and a gentler conveying solution, Glide-Line can help.
To start designing your new roller chain or timing belt, multi-strand conveying system today, get in touch with Glide-Line.