It's time to celebrate Michelle Brennan, she is a Customer Service Representative. She has been a part of the Glide-Line family for just shy of 8 years. When Michelle started with the company, Glide-Line was in its infancy. Over the years she has seen the evolution of growth and is excited to be a part of what is to come in the future.
"Michelle is a critical team member always looking out for the best interest of Glide-Line. Comparing Glide-Line to a conveyor, Michelle is the motor. She doesn't require a lot of maintenance, can be relied upon to keep things moving and is the critical component that allows us to run at the speeds we do." Supervisor Craig Newberry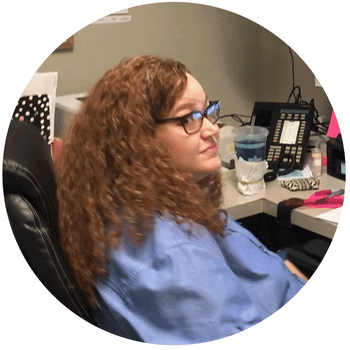 Michelle enjoys her work at Glide-Line especially because each day brings something new. While some tasks have remained the same over the years like order entry, the customers and situations vary day to day and job to job. Michelle says she also likes how Glide-Line is employee-owned and has a small company feel where everyone knows everyone, and Kevin is to thank for that! There is a huge emphasis on truly understanding the customer's needs and growing with them to provide customer satisfaction on their current project, but also for their future projects. That is part of my job, understanding how we can be the best for them and then working with our team to continue growing and improving based on customer experience.
"While Michelle's role keeps her out of the spot light, her ability to produce a high volume of work at an incredibly high level of accuracy, is more than deserving of accolades we can send her way. It is very comforting to have Michelle on the team as she can be counted on to stick to the plan and hold others accountable for their work. In addition to being a hard worker and a reliable team member, she's a wonderful person with the core values we are in constant pursuit of. We are extremely lucky to have Michelle at the center of our processes and keeping us organized."
When Michelle is not working, she is a wife of 7 years (been together for 27) and a proud cat mom! The furry guy sometimes thinks he's a dog and other times a person! Michelle says some things she would love to learn how to do are quilting, knitting and/or crocheting. She is jealous of people who find it relaxing to do these things while also creating some truly beautiful items (:

Michelle is part of a fabulous team at Glide-Line that works hard and takes pride in their everyday work.
Our Employee Spotlight series celebrates our phenomenal co-owners at Glide-Line, highlighting one person and their contributions to our team. Read the rest of the series here.