Glide-Line is known for creating innovative automated conveyor solutions for clients and integrators facing unique challenges. With most other conveyor manufacturers, custom-built solutions would be offered for many of our projects, costing the customer a ton of money and time. Glide-Line solutions are different. Our conveyors and components are purposely flexible, so even new, custom solutions are built at significantly less cost and the lead time is much faster than a typical custom solution.
One example is the Mechanically Slave Driven Conveyor Solution we built for a customer who needed to retrofit a new conveyor automation system, but wanted to minimize the amount of drives for the control system.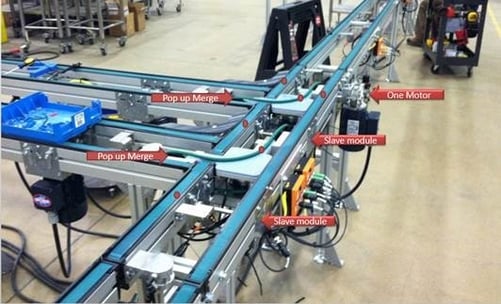 The automation system they needed was an upgrade to an existing system; they only had so many motor drives to work with and couldn't easily add more. Glide-Line's team worked to minimize the traditional number of motors in a conveyor system to use only what the customer already had.
The solution was the Mechanically Slave Driven Conveyor Solution.
Glide-Line was able to deliver a system to drive our different conveyors off a single motor. By maximizing a single motor's capability – transferring power through four conveyors – the client was able to continue to use the limited number of controls they had while also saving mechanical and electrical hardware costs compared to traditional solutions.
The solution incorporated:
One motor

Two pop-up merges

O-ring belt conveyors

Two twin-strand conveyors
This system used mechanical slave-driven power from the single motor to transfer the power through all four conveyors. This creative way of saving costs was possible thanks to Glide-Line's flexible conveyor systems. In this case, we were able to add slave-drive boxes which resulted in a power take-off rotating shaft. Power was transmitted through our steel-tensioned timing belts to accomplish the movement without loss of strength.
We quickly realized the Mechanically Slave Driven Conveyor Solution could be applied to additional challenges some integrators and their clients might face.
Break in Conveyor Strands without Breaking Conveyor Belt
The Mechanically Slave Driven Conveyor Solution can be used if the automation process requires an operator to access the pallet in an area that's over the belt. They need a break in the conveyor strands, but they don't necessarily want to break the conveyor into separate motors. This solution achieves the desired outcome in a cost-effective way.
Gap in One Strand of A Dual-Strand Conveyor
If the customer needs a gap or break in one strand of a dual strand conveyor, the Mechanically Slave Driven Conveyor Solution is the solution. For example, if the customer has a dual strand conveyor with a pallet (where something may hang down in the center), this solutions allows the client to put a notch or break in one side of the conveyor to help orient or modify the product as necessary.
Mechanically Drive Individual Conveyor Zones
Using this solution, you have the ability to take sections of a typical conveyor and break them up into separate, mechanically driven zones. This solution takes a single length of conveyor and breaks it into multiple zones to accommodate tooling or other customer process requirements that may require notching or breaks.
The Mechanically Slave Driven Conveyor Solution is a simple, elegant way to alter the very basic conveyor to do something unique on behalf of our customer. We have tons of examples of creating other innovative, unique solutions. Read more in our ebook, The Ultimate Guide to Creating a Flexible Automation Conveyor Application Solution.