Utilizing minimal space to develop an automation process is a common challenge with our integrator clients; conveyor systems that reduce floor space are the solution. Consider completing tasks within an elevator application to significantly reduce the conveyor floor space that would otherwise be needed to complete the process off the main line. This solution can help:
Eliminate process or layout complexity

Combine steps to improve efficiency

Simplify training and maintenance

Save space on the assembly floor
Eliminate Complexity with Innovative VTU Applications
Locating or rotating a product on a conveyor line is typically a separate function requiring additional equipment. Glide-Line's VTUs can accomplish this within the lift. The product can be conveyed inside the lift and the pallet itself can rotate on the conveyor deck!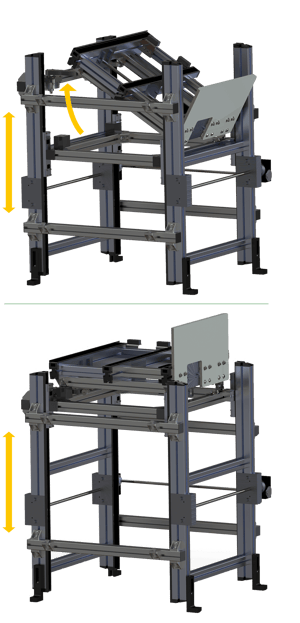 Improve Efficiency by Combining Steps
We've recently completed a Tilting Deck VTU to allow our clients to combine multiple steps within an elevator shaft. This VTU is designed so the deck can be tilted toward a robot to improve visual or functional access. Using the Tilting Deck VTU, robotic operations can occur within the lift. Combining the lifting and tilting with an entire operation by a robot, all occurring within one VTU, eliminates multiple process steps that otherwise would have required stops for each.
Reduce Conveyor Floor Space
Many design engineers are unaware of another way to apply elevators within your automated conveyor system: using VTUs to combine multiple steps within the system, eliminating the need for wider conveyors or additional stations and/or robotics.
Because our elevator motors are servo-driven, we're able to stop the deck motion smoothly and with precision. This functionality opens many doors for design engineers to use our pallet elevators to multi-task and add more than two lines as offshoots from a lift. An industry standard pneumatic lift can only accomplish two stops, and neither stop will be smooth.
Simplify Training & Maintenance
The Glide-Line 360 concept (which is what we use to build our VTUs) is, in fact, a linear actuator. It's nothing more than a traditional timing-belt driven actuator – with the exception that it's tightly integrated with the conveyor. There are definite benefits:
First, the service parts are identical to the rest of your conveyor.

Second, you don't need to source multiple parts from multiple vendors and integrate them all together. It all comes from Glide-Line, pre-assembled and ready to go.

Third, you only need to train your maintenance employees to fix conveyors, elevators and an actuator from one company.

Finally, with Glide-Line, the parts are simple (and the results are impressive).
So, why aren't other conveyor manufacturers offering these types of solutions? Who knows? To us, it seems like an obvious solution to a problem many integrators are facing. Glide-Line sees how customized conveyor options for innovative, motion controlled conveyors can help design engineers solve challenges while keeping costs in line with clients' budgets. We've made it our mission to fill this gap for integrators, and we've made sure we're the expert resource for creative conveyor solutions when we're needed.
We help concept innovative, multi-functional conveyor solutions as part of our process when we assist integrators with quotes. It's what we do. When it comes to non-traditional solutions, or conveyors that, by most standards, would require complex or customized components, Glide-Line applies simple but flexible options to create a customized standard option that's usually more efficient, more cost-effective, and saves space.