Accumulating conveyors serve as buffer zones where you can stop, hold, and release products to downstream operations. Just like with traffic guards, accumulation strategies vary and it's up to application engineers to find the best way to regulate the flow of products while allowing upstream processes to continue unabated.
When you have to provide accumulation zones for more delicate products, the role is more like being an air traffic controller than a guard with a stop bat. Each item needs elegant movement into the zone with no hard stops during accumulation.
Although Roller Chain and Timing Belt conveyors can support accumulation applications, the solution that is best for accumulation strategies is the Zero Contact Zoned Conveyor. Here's why.
How Zero Contact Zoned Conveyors

Improve Accumulation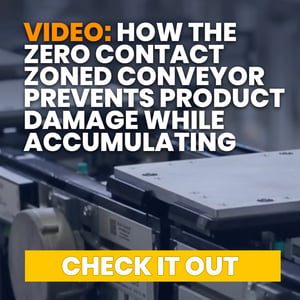 One of the big challenges with a traditional power-and-free accumulation is controlling the release of products once you've stopped them in a zone. Because you're not stopping each item individually and are depending on a bump stop strategy instead – you have less control over each item.
Accumulating products with the Zero Contact Zoned Conveyor overcome these issues by gently moving each item into the zone without products ever touching physically.
Other challenges with a traditional power-and-free accumulation conveyor solutions are:
Continuously running motors – Increases energy consumption as well as maintenance costs of the drives
Increased backpressure – As more products accumulate, the greater the backpressure generated from each successive stop
Wear and tear – Belts and chains suffer from excessive wear and tear when power-and-free accumulation is part of the line
Regulate the Flow of Products

With Zero Contact Zoned Conveyors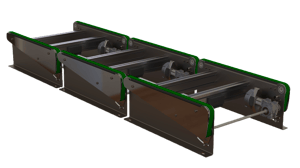 Zero pressure accumulation uses individual zones to control the entry and exit of each product. Motor cards have integrated zero-pressure logic and motors only move when required. You can save energy, eliminate backpressure, and gently move products through your accumulation zones automatically.
Additionally, due to the modular design and customized solutions and accessories available from Glide-Line, a Zero Contact Zoned Conveyor can:
Rotate individual assemblies by moving the conveyor section and not the product
Lift products off the line and transfer them to another section
Manage all traffic within the accumulation zone with integrated controls
Flexible and Modular

Accumulation Conveyor Designs from Glide-Line
Glide-Line's solutions can improve your accumulation strategies with gentle, elegant movements for entries and exits. The use of additional material handling systems like VTUs rotates and bypass stations that will greatly improve your ability to regulate product flow throughout your facility.
Application engineers that need to elegantly accumulate products and expertly control the line to limit product damage, speak to Glide-Line today.