Your clients want you to build a cost-effective system customized to their needs. Unfortunately, end users may only consider the upfront costs when analyzing this expense.
This could be a massive blind spot, especially with potential hidden costs like:
Product damage: Conveyor backpressure and products banging into each other can create product damage
Energy Costs: With a motors running all day, every day, with excess drag, energy costs add up
Wear and Tear Costs: Traditional conveyors (single zone) conveyors experience greater levels of backpressure and increase wear and tear on a conveyor system
So, what's the alternative? What types of conveyors can you use to build a customized system that minimizes these hidden costs while delivering the same level of quality to your clients?
Glide-Line's zero contact zoned conveyor, offers an alternative. It minimizes these hidden costs and can be customized to meet the demands of your clients. Even the gecko would be excited about this.
Here are 3 ways zero contact zoned conveyors bring significant long-term cost savings:
1.
Gentle Product Handling Means Less Product Damage
Backpressure and pallets banging into each other are common issues with accumulation on traditional conveyors. This can cause damage to fragile products (or in a partially assembled state) and can be a major hidden cost of traditional conveyor systems. The zero contact zoned conveyor eliminates backpressure while adding and maintaining space between pallets, eliminating product damage caused by these issues. Let's dive in for more detail.
Instead of a single belt, as most conveyors have, the belts on the zero contact zoned conveyor are built in separate zones. This creates a permanent gap between pallets (and, therefore, products).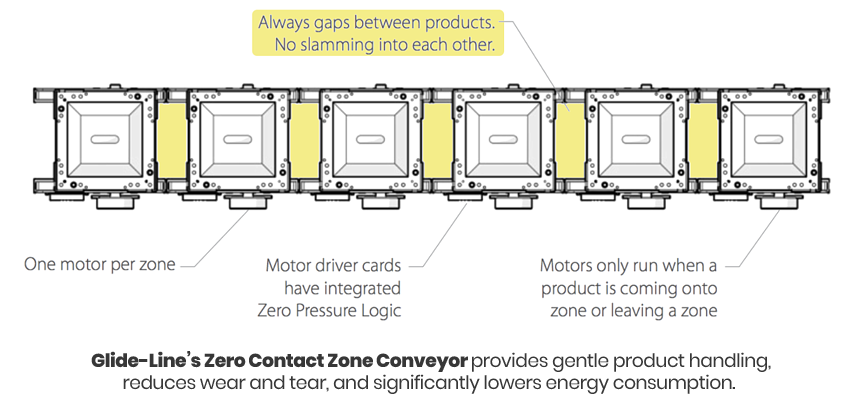 The Zero Contact Zoned Conveyor doesn't accumulate pallets in a traditional way (with the pallet running under the accumulated pallets). Instead, it automatically stops. In fact, our driver cards have integrated zero pressure logic built in, so this is all handled automatically. With no product-to-product contact, there is a lower chance of product damage and with no backpressure, the energy is reduced and wear and tear is minimized.
2.
Zero Contact Zoned Conveyors Slash Energy Costs by up to 40%
Traditional accumulation conveyor typically run all day using an AC motor and typically a worm gearbox. This results in a less efficient use of electricity since it's not actually moving product in these accumulation areas as well as the loss of efficiency in the gearbox. Additionally, traditional accumulation zones create backpressure, which only adds to increased energy costs, since the motors are working harder to keep the conveyor running despite the build-up of friction.
With this conveyor style, each zone is powered by a dedicated brushless DC motor that only runs when needed. This uses much less electricity than a traditional conveyor. And, since backpressure is eliminated, the system runs with less friction, and therefore much more efficiently when it is running.
Zero Contact Zoned Conveyors can reduce your energy costs by 20-40%!
3.
Zero Contact Zoned Conveyors Minimize Wear and Tear
Reduced wear and tear is another major way this conveyor style can save your clients money. Thanks to its unique design, zero contact zoned conveyors have a longer useful life, reducing long-term capital expenditures.
Wear and tear is minimized by a design element we've already discussed in this post: eliminated friction from backpressure. Additionally, the power transmission is simpler with less moving parts (our DC motor has a single moving part and a 300,000 hour bearing life) to improve both reliability and reduce maintenance needs, reducing total cost of operation tremendously.
As a system integrator, you need to find a cost-effective option that serves your clients long-term. With Glide-Line's Zero Contact Zoned Conveyors, you can deliver on this promise.
A Cost Effective Conveyor Solution
Glide-Line's Zero Contact Zoned Conveyors are the cost-saving alternative to traditional
conveyor systems when you need to handle fragile products. It significantly reduces all the major hidden costs of a conveyor system while providing the same (if not better) level of quality and dependability your client needs in their conveyor system.
With zero backpressure, your clients will experience less product damage. With separate zones operating more efficiently, your clients will save tremendously on energy costs. With reduced wear and tear, and a longer useful life, maintenance and replacement costs are significantly less!
The benefits of zero contact zoned conveyors go beyond material cost savings. Read on to see how our customizable conveyors can help you build a system that meets the demands of your clients.
Glide-Line Can Quickly Deliver Customized Conveyors That Meet Your Customer's Needs
Today's manufacturer demands a custom system that can be quickly designed and delivered. Glide-Line has built its business around meeting this demand.
Glide-Line has lead times ½ of our competitors. Our conveyor is highly modular and designed extremely intelligently, allowing us to quickly deliver conveyors and devices customized to your clients' needs. Yes, you read that right: Customized configurations at half the lead time.
With accurate pricing offered immediately through our IMPACT! configuration tool, there's no guessing game on price. Forget about setting aside an additional 10-20% as a contingency. Glide-Line's IMPACT! can quickly and accurately price your customized solution.
Want To Know More About How Reducing Accumulation Pressure Can Lead To A Cost-Saving Conveyor System? Check out our white paper, How To Manage Backpressure From Accumulation. Or check out our complete guide, The Secrets To Creating A Flexible Automation Conveyor Application Solution
Ready to Get Started? Contact Us Now To See if Glide-Line's Zero Contact Zoned Conveyors can help you build a cost-efficient system!