When conveying a wide product directly on a conveyor, conventional conveying systems can be bulky and inflexible. Conveying on a traditional roller conveyor, results in tremendously large radiuses and takes up a ton of floor space. Try doing things like adding custom features like VTUs or rotate units to the line and it gets even more challenging. In short, when conveying a wide product and the line needs a curved path, conventional conveyors often create a myriad of operational issues.
Conveyors for refrigerator or other appliance parts that use conventional conveyors can be the bane of existence for those responsible to keep lines operational. If the manufacturing process isn't a straight line (most aren't), roller conveyors and guiding on a wide product can create jams and shut the line down.
Anytime the production line is brought to a halt because of something as simple as a curve, expenses and the pressure on the responsible engineer to get products flowing again increase. This endless cycle can be avoided with more economical, effective, and accurate solutions such as a timing belt conveying system.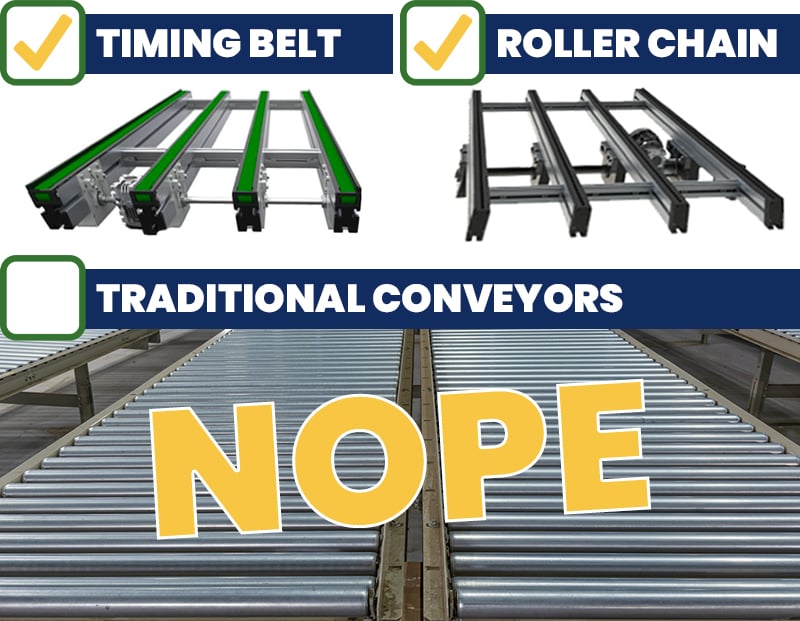 Benefits of Using

Multi-Strand Conveyors

for Wide Product Handling Applications
The good news is that even if you're dealing with wide products that need to traverse a curve or even create multiple stations (assembly or otherwise) in your manufacturing process, there's an economical solution available. Multi-strand conveyors can eliminate curves on the line with standard customizations like a dual pop-up transfer unit. We've also developed systems that allow you to save space by conveying up instead of out for a variety of material handling scenarios. You can prevent costly downtimes and ensure precise control at each stage in the line.
With a multi-strand, timing belt conveyor you can change direction and eliminate long, sweeping curves by:
Mounting a conveyor section on the top of a rotating deck before continuing the process - immediately changing the direction of the line

Accommodating turns just by offsetting the axis of rotation at transfer points - eliminating the risk of curves causing product blockages all together

Designing a conveying system with multiple strands to manage any width product - handling the item directly instead of moving it along an arced trajectory
While multi-strand conveyors can accommodate most wide products, it's also a more economical system than conventional roller solutions. It gives engineers a more flexible approach for wide product handling, and you can accomplish all of this with the best lead times in the industry. Starting with designing your system, we make it easy with our in-context configurator, IMPACT!. We even have pre-built templates for you to start with. IMPACT! even allows you to receive instant pricing and part numbers for your design.
How a

Timing Belt Conveyor Design

Overcomes Common Manufacturing Challenges
In material handling system designs where you need to change direction, you can include customized transfer points and replace curved lines while maximizing the use of space. This is also helpful in situations where wide products may transcend the curved guides. Whatever your facility's design constraints, a multi-strand conveyor system is easy to configure and provides you with effective capabilities to orient, present, and manipulate your products on the line without the need to resort to curved conveyor lines.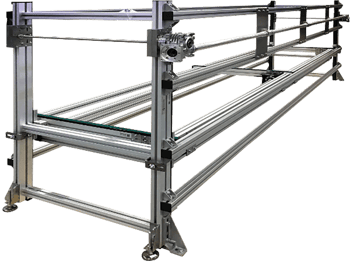 When dealing with extra-long products, multi-strand conveyors offer a configurable design that can overcome just about any challenge. We recently assisted a customer by adapting vertical transfer units to act as a 90-degree lift and tilt system - delivering longer products onto a spur line for station work. With this type of configuration, you can change direction horizontally or vertically using a multi-strand conveyor system with customized transfer units, without paying extra.
Complete automation features include using a drop and rotate unit or a corner rotate unit that supports a range of degrees, anything from 0°-180°. With a timing belt multi-strand conveyor, you can increase your product manipulation capabilities without compromising the manufacturing process or introducing unnecessary complexity to the system.
Let Glide-Line Assist with Your

Wide Product Conveying Needs
To help your engineers have a good night's sleep, Glide-Line can assist with your product handling designs and deliver a wide product conveying solution that operates reliably, reduces product damage, and accommodates all changes in the direction you need.
To discuss our systems, customizations, and wide product conveying solutions, reach out to Glide-Line today.