Loading a conveyor rack or shelving system as part of your conveyor process can easily become a labor-intensive task. It can slow your process if you don't automate it. And your clients don't typically have the extra arm and leg lying around to pay for an automated system.
Instead, consider adding an automated racking application made from basic conveyor components to swiftly and simply load a rack or shelf from a modular conveyor. This is one of the innovative ways Glide-Line has applied VTUs for integrators and their clients. As a bonus, it's also a cost-effective way to solve this challenge.
VTUs for Stacking and De-stacking
VTUs can be used to stack conveyor trays or de-stack conveyor pallets automatically within your client's conveyor automation process. Whether stacking and de-stacking are needed at the beginning, middle, or end of the process, servo-driven VTUs are able to precisely position trays into a rack or remove them in the exact pallet stop position specified.
Stacking pallets in a tall storage solution decreases the storage footprint within a process, allowing for more space to add additional lines or expand a facility's capacity.
Typically, clients are interested in increasing throughput or reducing overhead when this option is considered. Instead of a manual process requiring someone to risk climbing up and down to retrieve pallets to achieve higher throughput, automating the stacking and de-stacking process using a VTU accomplishes this goal safely, efficiently, and with less risk of product damage.
Our clients typically add savings to their bottom line by automating this process using a VTU since it's efficient, predictable, and with adequate precision for far less cost than traditional custom solutions. Since the VTU can run without stopping and needs no training to complete this repetitive motion, personnel are able to focus on more challenging responsibilities within the process.
VTUs for Vertical Product Accumulation/Buffering
Many of our integrators have also used VTUs for product accumulation or buffering. Delicate products can be damaged from back-pressure in horizontal accumulation zones; using a VTU to create a vertical buffer (typically in the form of a rack or stacking application) prevents product damage on conveyors. The precise positioning of a VTU, accomplished by Glide-Line's use of servo-driven motors, enables your conveyor to feed multiple storage locations in order to buffer a machine infeed or outfeed.
Whether you have delicate products requiring movement from one position on a line to another, or you simply need a basic automated pallet stacking solution to reduce space requirements, a servo-driven VTU is a good solution.
VTU INNOVATION IN ACTION

Our integrator client was able to prevent damage to delicate products for their silk screening client using a VTU and a vertical portable stacking system for buffering. Because our VTUs are servo-driven, precision rack loading can be achieved easily. Using small movements, we stored the delicate product to allow for accumulations before the next process took place, which was slower. The buffer then fed multiple other, slower processes in various lines from the rack.
Rack Feeder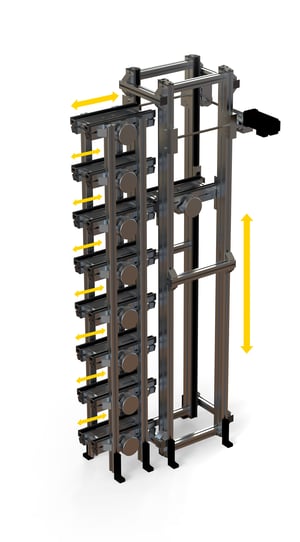 A variation on the multiple deck lift application, a rack feeder VTU serves a specific purpose: storing product vertically until it's ready to be used. With this application, we're using multiple lifts within a single VTU footprint. Then, we unload the product from the lifts onto elevated conveyors moving in opposite directions. These conveyors feed the storage rack with the product trays or pallets. The rack feeder can also be reversed to retrieve the products when needed.
VTU INNOVATION IN ACTION
Our client manufactures large windows. They wanted to take twenty windows at a time and store them vertically. We concepted a lift to run at ten levels within the same lift, but with two pallet widths encompassed in the same VTU footprint (a double elevator). The VTU had ten stopping points, and at each point, two windows are unloaded to separate conveyors going in opposite directions. At the end of each conveyor is the storage unit; each one houses ten windows.
Stacker/De-stacker
This is another multiple deck lift example. Similar to the rack feeder, multiple lifts are employed within one VTU and the product is fed to an adjacent conveyor by stopping at multiple positions within the VTU. However, in this case, a stack of pallets is formed instead of adding them to a storage rack. The goal may be to stack products, such as packaging products, or simply stack them for a defined time period to cure until they're ready for de-stacking. Glide-Line's ability to build this is unique.
Whether your client's process requires stacking pallets, racking products, or vertically accumulating pieces before the next process step, there is a simple application for automating this. Learn more about this option and more innovative applications for VTUs in our ebook Innovative Ways to Create Customized Lifts and Vertical Conveyors.