Choosing a conveyor system manufacturer is no simple task, particularly when you're under a deadline. That is why it is incredibly important to know what to expect from a potential conveyor manufacturing partner when it comes to lead times. Check out these questions and consider them when you are evaluating your options.
What are the manufacturer's

standard conveyor options?
Lead time will be greatly impacted by the number of standard versus custom conveyor parts you need in an applications system. If you need both short lead time and variations from the standard norms, look for a manufacturer with the greatest variety and flexibility in their standard conveyor system options.
Our modular conveyor systems offer a quick and easy design process as well as endless possibilities for configurations, particularly when an applications engineer is using Glide-Line's IMPACT! configurator for the layout. When you're in need of some inspiration to solve your customer's challenging process needs, look no further. Check out this collection of unique modular assembly conveyor layouts, pallet conveyor automation systems layouts, and flexible conveyor system layouts.

What are the manufacturer's

lead times for standard conveyors?
Most conveyor systems manufacturers' lead times from order to delivery are 6 – 12 weeks. Sometimes this can be expedited in return for a hefty fee.
Partnering with a versatile conveyor systems manufacturer like Glide-Line will do the most to shorten your lead time. Glide-Line's manufacturing process is built for quick lead times; we can ship conveyors in 2 to 3 weeks, and devices such as lifts, lift and transfers, lift and locate stations, and more in 4 to 6 weeks. This conveyor lead time is cut in half from other manufacturers and saves your client significant time and money.
What is the typical lead time for

customized or altered conveyor elements?
If you can't avoid customizations in your conveyor application, the next step is to seek a manufacturing partner able to deliver customized elements as quickly as possible. Better yet, seek a partner with configurable or alterable options; they're faster than customizations.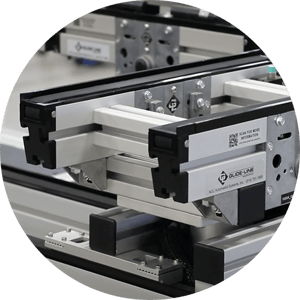 For example, Glide-Line's 360 series conveyor is built to be as flexible and configurable as possible - the most flexible conveyor on the market today. So, instead of customizing a conveyor from scratch to meet your client's goal, you're configuring a standard, which significantly cuts down on lead time.
Even if your unique application requires true customization, an experienced flexible conveyor manufacturer will have built their manufacturing process to be incredibly efficient, making for quick conveyor lead times even for truly customized conveyor solutions.
The man we consider the God Father of Glide-Line, Ron Schwarr, wrote a great blog about dealing with customizations - because the don't have to be expensive OR time consuming. READ IT NOW.
Is there something different in the company's manufacturing process enabling them to

produce engineered designs quicker than most?
You'll be able to gauge a manufacturer's ability to innovate with new solutions, new processes, and new customer-focused initiatives based partially on this response. A traditional company will simply speed up their current process to accommodate a shorter lead time request, often at the expense of your client (and possibly at the expense of attention to detail). However, an innovative company will employ a more efficient conveyor manufacturing process to address this frequent concern of applications engineers.
Glide-Line, for example, has designed their manufacturing process for conveyor systems around customers' desires for a shorter lead time, effectively cutting lead times in half for all standard and configured orders.
Armed with these answers, now you can more easily compare competitive conveyor manufacturers and choose a partner that best fits your client's needs. Learn more in our ebook, How to Cut Conveyor System Lead Time in Half in 2023.