A Zero Contact Zoned Conveyor is especially helpful for applications like medical equipment, vials, appliance doors, thermoformed trays or container lids. Basically any fragile product handling application, because this solution allows you to accumulate products like totes and trays into specific zones without them ever touching. This means no backpressure, no contact, and zero friction on the belt that could lead to particulates or debris ending up on products.
Let's look at how you can optimize your conveyor accumulation strategies with a Zero Contact Zoned Conveyor.
Expert Manipulation of Totes and Trays

with Zero Pressure Accumulation Conveyor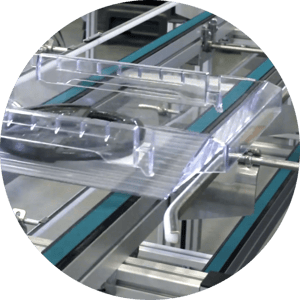 Traditional accumulation strategies increase the risk of damage to equipment and products. Backpressure on the line can lead to product damage while each bump-stop jars the preceding item. It also increases the wear and tear on belts while adding more force to every accumulated item. This traditional approach increases maintenance costs, leaves particulate residues on products, or requires oversizing equipment to accommodate the loads. Simply put, it's expensive, clunky, and drastically inefficient.
Alternatively, a Zero Contact Zoned Conveyor overcomes these challenges by:
Controlling each zone's drive independently
Allowing for the accumulation of products in individual zones
Releasing products gently to downstream operations
Because there is zero backpressure and zero friction, products travel into the accumulation zone smoothly and gently. To design the ideal solution, you can pick from two base systems including a roller chain or timing belt conveying medium. For heavier totes or trays, the roller chain is the better option while loads below 250 pounds can use the timing belt solution. Check out the exact differences between the two base systems here.
What Are the Benefits of a

Zero Contact Zoned Conveyor Accumulation Strategy?
Zoned accumulation means you can handle any kind of tote or tray within a zone including lifts, transfers, or rotations. You can gently hand off items between process stages without sharp stops or fast starts.
As you control the speed of each entry and exit, you have smooth acceleration and deceleration according to your application requirements. By including product handling accessories between segments, you have the necessary design freedom to expertly handle all your items throughout the facility and deliver each tote or tray to the right area, intact, and without any damage.
Eliminate Accumulation Backpressure

with a Zero Contact Zoned Conveyor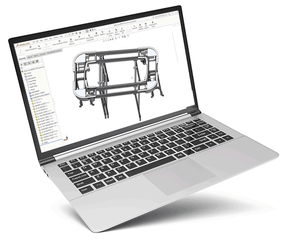 With modular, multi-strand designs available, Glide-Line can handle any kind of geometry or tote material. Gentle stops, expert manipulation capabilities, and controlled release to downstream processes make Glide-Line's Zero Contact Zoned Conveyor ideal for your accumulation processes. We also provide the shortest lead times in the industry and you can start configuring your solution using our IMPACT! software today.
If you need an elegant accumulation and tote handling conveyor design, discuss your requirements with Glide-Line today.