Customizations to automation conveyor applications can often add months to a lead time. But unless you utilize a configurable flexible conveyor solution, alternatives to conveyor customization can take even longer. The question is, how can a custom conveyor built by somebody else be faster than building one myself?
I'll answer this question and provide some example of out-of-the-box solutions that saved our customers weeks, months, and possibly years of development and building time if they had done this by themselves.
How much time can you save?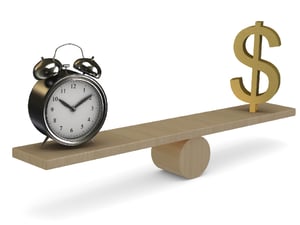 A customized conveyor will always have a faster lead time than a solution you've developed and built yourself. Why? Because conveyor manufacturers have the knowledge, expertise, and equipment on-hand to engineer, design, and build a conveyor to your exact specifications.
Compare building a conveyor to building your own computer. Yes, you can design or purchase a motherboard, collect all of the necessary parts, and procure all other components to customize the computer's abilities. But, at the end of the day, a computer manufacturer like Apple or IBM will always be able to build an operational computer faster than you could do it yourself. Purchasing a customization or a modified version of your desired conveyor to help address a need is the faster way to solve for your assembly needs.
Glide-Line's conveyors are manufactured at an even faster pace compared to other manufacturers. Their process, from configuring the engineering design using IMPACT! to assembling, shipping, and installing the conveyor, is simply built for speed. They're able to reduce lead time by half – an average of just 4-6 weeks from design to shipping.
Additionally, customizations to a traditional conveyor can save time in the actual assembly process for a product. Glide-Line's 360 solution is built to solve unique material handling challenges and increase assembly efficiency, which can add up to months or years saved in throughput. As one of our engineers put it, "It's overwhelming, the amount of time that can be saved with the 360."
Customized manufactured conveyor examples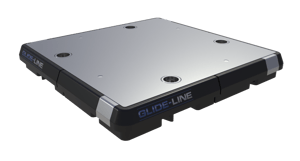 While your client's assembly process may be entirely unique to them, chances are good an experienced flexible conveyor manufacturer like Glide-Line can customize or simply modify an existing conveyor to meet your client's needs. Check out these examples, and read about additional time-saving innovations available in our blog post Unique Assembly Conveyor Layouts and the Best Applications.
Customized pallets: customizing pallets for customer fixturing is a common modification we've made to fit a client's assembly requirements. These customizations rarely add lead time, but save you time as the pallets come in ready for fixturing, rather than needing to go out to get secondary machining operations
Indexing conveyors: We've created stepper- or servo-driven indexing conveyors using our toothed belt and steel-tension-member-based timing belts, which allow for precise motion control.
Increase throughput with additional machines: Adding additional machinery to the same amount of floor space increases throughput without increasing the footprint of the machinery, thanks to creative layout options presented by Glide-Line.
Open-center-style conveyor: Glide-Line's open center conveyor removes the often-necessary center cross-members and shafting between a two-strand conveyor, resulting in an open gap between the two strands. The support structures are mounted outside of the conveyor strands. This saves time because a custom solution is unnecessary. This is a standard Glide-Line option. Additionally, no robotics are needed for transporting products with wires, tubes, or parts hanging below the main conveyors. We even offer an open center lift and locate.
Download our latest ebook, How to Cut Conveyor System Lead Time in Half in 2018, for even more details.