Glide-Line's tagline is Fast, Flexible, and Easy. When it comes to our manufacturing process, we take that as a directive: be fast, be flexible and be easy to use. We work with applications engineers and design engineers to understand the bigger picture purpose of the conveyor system that we're working on, to help solve challenging problems easily using our flexible line of conveyor components, and then we manufacture the conveyor and any other workpieces precisely and quickly.
Glide-Line's unique conveyor-manufacturing process is built for 21st-century applications and bold, innovative design engineers who do unique work in the automation industry. Here are four ways their process is made for modern engineers.
Lead Times are Half Those of Competitors
Our engineers are backed by our parent company, NCC Automated Systems, so we have the ability to produce anything you may need. Glide-Line is a pre-engineered solution, but our manufacturing is done all in-house, so we can do any custom builds or configurations very quickly in our factory, then assemble and ship in a very short timeframe. No matter the number of strands, rotations needed, work stations ordered, drives required, we can likely do it, and it'll be shipped in half the time that our competitors can promise.
Near-complete Autonomy to Customize and Configure Conveyors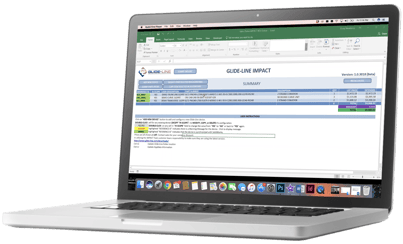 We offer a free, easy-to-use, in-context configurator that works with Solidworks. If you can use Excel, you can use IMPACT!, our software for applications engineers.
Our flexible conveyor models can go directly from IMPACT! into your Solidworks model, and the data output goes into a manufacturing and fulfillment system without the need for engineering involvement unless you want it.
Engineering Team Support to Solve Challenges Within Scope
Our process begins with your configurations, and then the process is handed off to our engineering team. If necessary, we will also work with you to understand exactly what your clients need:
The scope of the project
The end goal
Timeline requirements
Cost requirements
Next, we help determine if we can customize a better solution for what you need. We often challenge our customers: what have you got to lose? We have quick response time - so literally, just try it! Email us and see if we can help.
We want to be known for the best service in the industry (easy), particularly after the purchase of the conveyor, and at Glide-Line, that's how we operate. In fact, we don't really take time trying to match what competitors are doing; we do what's best for the customer, no matter what. We hold true to our deadlines no matter what. It matters to you, so it matters to us; your deadlines and deliverables become ours. That's a virtue at Glide-Line.
Innovative, Custom, and Multi-use Conveyors are Standard
Here's the part we love about our jobs. It's the whole reason we love being an employee-owned company! We get to be innovative and creative in solving customers' problems - and then, we can share those solutions as standard options with anyone else who needs them. Here are some examples of innovative solutions that we offer as standards today: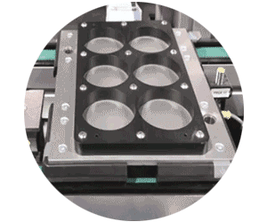 With Glide-Line's modular design and simple construction, conveyors and systems can be built and shipped in days, not weeks. We have streamlined our entire assembly process with smart design and digital fabrication, making it possible to rapidly deploy without compromising on precise measurements and durability.
Our ability to make these components in house supports highly-configured or customized solutions quickly and just-in-time for assembly, supporting modern engineers with what they need most: flexibility in designs suitable for customers' changing and challenging projects.
Contact us today to see how we can help with your next project. We can't wait to get started.