In today's manufacturing world, your clients' processes are adapting to an engineer-to-order mindset; their automation processes must be nimble and able to multi-task throughout their facility. Your clients' AMRs, conveyors, and other machinery often need to handle multiple sizes and shapes of payloads, even within a single shift, in order to remain profitable and comply with the demands of the market.
For small-to-medium payloads up to 200 pounds, the lightweight, strong, and configurable conveyor attachments from Glide-Line are perfect for the nimble-ness that your clients' changing processes need. We recently shared our four design features needed to create a lightweight conveyor. Here, we will elaborate, specifically with flexible payloads in mind.
AMR/AGV Conveyor Features for Handling Varying Payloads
To handle varying payloads using a lightweight conveyor for your AMR or AGV, Glide-Line has a number of standard conveyor features to apply to conveyors:
Single, programmable drives on each conveyor or strand
Optional gearbox on each conveyor to increase torque
Completely customizable dimensions to support up to 200 pounds and fit any AMR or AGV
These customizable features are available as standard options, thanks to Glide-Line's flexible manufacturing process. This is what we do day-in and day-out, so it also doesn't increase the lead time.
Powerful Features for AMR/AGV Conveyors
Glide-Line's conveyors are an efficiently-designed solution with a very high capacity relative to its compact size. The most powerful features include:
Timing Belt Design: Our tension-membered timing belt design increases the payload capacity, while ensuring a smooth transfer on and off the main conveyor lines.
Incredible Pulley Wrap: Our T5 timing belt wraps 192 degrees around our toothed drive pulley
DC Motor Efficiency: The motor is extremely efficient and powerful for its size, while remaining lightweight so as not to increase the payload on the conveyor.
These standard features don't cost a premium in time or money, nor do they increase the lead time.
Tools for Integrators to Configure AMR/AGV Conveyors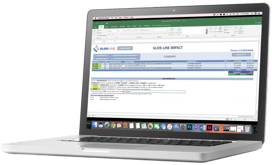 Glide-Line provides a free-to-use, in-context configurator for integrators to use to calculate variations on its configurable conveyors. These variations include payload capacity, size to the millimeter, and number of strands. It also calculates the conveyor's price for you, all within the context of Solidworks.
Using our integrator tools, you're also able to evaluate the application from a load and capacity perspective within the tool -- all on your own. We're always available to discuss ideas and any other creative solutions, but it's not necessary for you to get the information you need.
At Glide-Line, we work to maximize the efficiency of your robots by keeping our conveyor attachments lightweight and compact. Our payload-to-weight ratio is hard to beat thanks to our strong, yet light-weight conveyors that help you to maximize utilization of the robots. When you're looking for a more agile AMR conveyor attachment that can handle the varying payloads your customers need, do away with heavy, clunky traditional conveyor solutions. Glide-Line is the conveyor manufacturer you've been looking for.
Learn more in our ebook, How Autonomous Mobile Robot (AMR) Integrators Incorporate A Lightweight, Customizable Conveyor To Adapt To Their Application and Product.