To keep up with a fast-changing world, we need technologies that can adapt almost as quickly as we do. For manufacturers of appliances, the ability to rotate flat panels while conveying may only be one part of the process – but it makes life a lot easier when you're assembling complex products.
The last few years have highlighted the need for persistent and profound innovation in every single industry, possibly more so in manufacturing. Peter Thiel believes we've narrowed our definition of what's possible in technology, and when that happens to an engineer, there's very little fun left in the game.
To reinvigorate your creative spirit for the new year, this blog will show you some of the latest possibilities when it comes to rotating flat panels during your assembly operations. Here's one secret: rotate the conveyor, not the product.
Rotate Flat Panels With a

Rotating Conveyor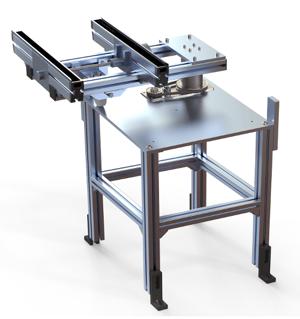 A dual-conveyor product turner, a twist conveyor, or bump-turn design may work well for packaged goods, but not so much when conveying and rotating assembly workpieces directly. These designs add complexity to the conveyor transfer layout and if anything goes wrong (which it always seems to), it could create damage to the product or create traffic jams on the assembly line.
In these situations, you'll need one of Glide-Line's innovative rotation units or a right angle transfer conveyor.

Conveyor Rotate Unit
For corner or end transfers, a conveyor rotate unit gives you all the control you need without taking up large amounts of space. The unit uses a servo-driven motor to provide smooth and precise movement of a product by rotating the conveyor section while orientating the workpiece for the next assembly operation.
A conveyor rotate unit allows you to:
Rotate either about the center axis or an offset-axis
Transfer items to an adjacent conveyor and maintain the leading edge
Rotate the product to any angle and travel distance

Lift and Rotate Unit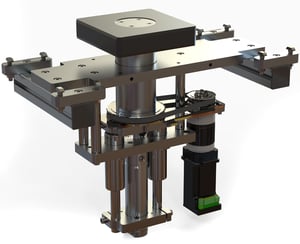 To achieve multi-level angle and multi-stop rotations, a lift and rotate unit gives you all the freedom to rotate and lift workpieces. Ideal for special applications, the servomotor is completely programmable to maintain continuous, consistent rotation above the assembly line.
Key features of a lift and rotate unit include:
Ability to rotate in either clockwise or counterclockwise directions
Provides ultra-smooth rotation and acceleration for precise control
A payload capacity of 150 pounds with additional features like guide-pins or guardrails
You can also opt for a manual lift and rotate unit to give an operator freedom and control over the rotating operation.

Drop and Rotate Transfer Unit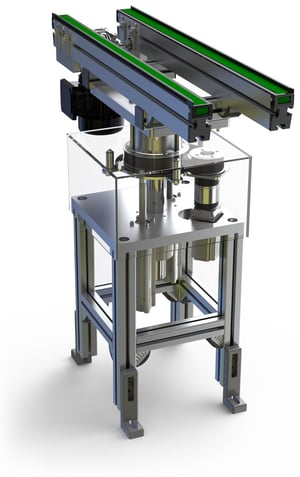 A drop and rotate transfer unit provides you with a simplified layout while rotating a product anywhere between 1 and 360 degrees. You can change the orientation of the workpiece or maintain its current orientation depending on your application. The unit provides you with precise control during rotation, giving you endless possibilities when it comes to manipulating or orientating while conveying products directly.
A drop and rotate transfer unit is ideal for when:
You need a smooth and rapid right angle transfer between conveyors
You need to save space by not violating the area between the transfer conveyor strands
You want to solve complex panel distribution challenges with a centralized rotation hub
IMPACT!:

Software Built for Engineers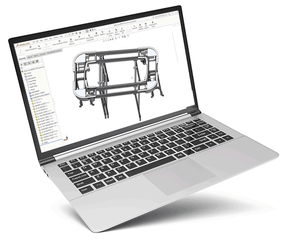 IMPACT! is a Solidworks and Excel integration to help you layout and design your conveyor solution. We use Excel for application details and capacity feedback, as well as instant part numbers and pricing. Click a button to insert accurate CAD models directly into Solidworks, always real-time linked to Excel. Your master assembly matches your Excel bill of material, pricing, and models – all in sync, all the time.
If you need a change, no problem – all models are highly configurable, not to mention include motion states and are configured for snap-to mating.
This free, in-context Excel and / or SolidWorks configuration tool has millions of standard configurations. It features location customization for drives, legs and cross-members, splice points, all of which add up to almost infinite possibilities for a perfect design configuration for your application. Plus, you can instantly evaluate the throughput, weights, lengths, and heights handled by the conveyor you're designing through the Excel based application review tools.
Simplify Your System Layout

With Rotation Units From Glide-Line
Glide-Line's rotation solutions are highly configurable and programmable while still being an economical option. With modular construction, you can create the ideal layout and benefit from the shortest lead-time in the industry using our SolidWorks IMPACT! configurator. Now is the time to reimagine what's possible when designing your rotation solution for flat panel workpieces.
If you want to discuss any of our rotation units for flat-panel workpieces, reach out to Glide-Line today.