If you are like many engineers, you've probably been wondering - why doesn't my current conveyor prevent product damage? Shouldn't that be one of the primary functions of a conveyor?
We don't blame you cause we thought the exact same thing. So, we decided to do something about it, and that's why we created the Zero Contact Zoned Conveyor.
The Zero Contact Zoned Conveyor:
eliminates product collision entirely while
improving accumulation
significantly improving efficiency and
reducing wear and tear on the conveyor.
The Zero Contact Zoned Conveyor works by placing each product on its own pallet and controlling each pallet zone individually. The whole system is smart - it's designed to smoothly control starting and stopping so products never touch and never jostle, preventing product damage and reducing wear and tear caused by accumulation friction.
Check out this quick illustration video. Now, we assume that you probably don't convey blenders, or maybe you do… how's work over there at Cuisinart? But, it visually shows the issue that many people face when conveying fragile products.
Now, watch as we compare traditional accumulation side-by-side with the Zero Contact Zoned accumulation:
Notice that the Zero Contact Zoned accumulation pallets never come into contact with the pallets in front of them, while the traditional accumulation pallets are colliding and jostling the products each time another pallet comes down the line.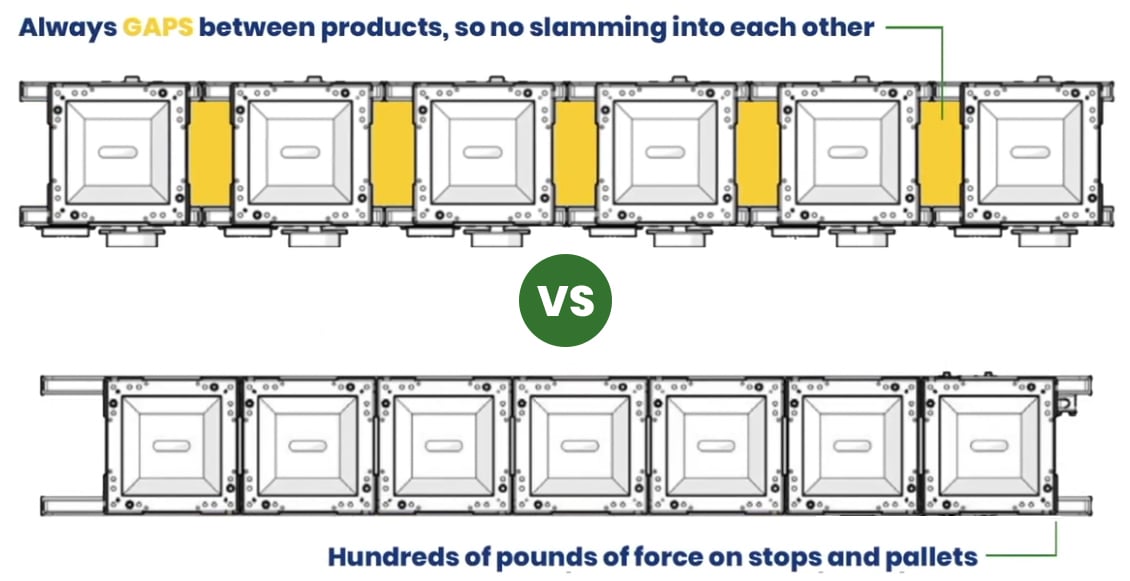 Traditional accumulation depends on pallets or products colliding to control the flow downstream. Compare this to cars without brakes stopping at a stoplight. They would stop only by colliding with the car in front of them.
The Zero Contact Zoned conveyor accumulates more gently, using programmed zones to ensure gaps remain between the pallets or products. This is like cars with brakes gently slowing behind other cars at a stoplight.
So, now you can stop imagining a better solution. We've found one. With the Zero Contact Zoned Conveyor, your pallets are never colliding. It provides product-friendly accumulation and movement while also saving energy and significantly reducing conveyor wear-and-tear. So, your blenders… or whatever you are conveying are safe from product damage – FINALLY!
No contact = No collision = No damage.
It's that simple.