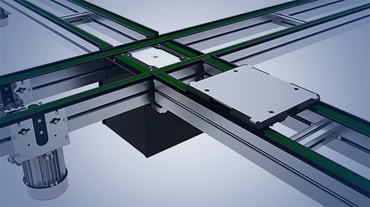 Developing an automated conveyor system layout, estimate, and proposal involves developing a layout and a budget for your customer. As you develop the automation strategy including the conveyor system design, accurate and impressive delivery to your client could be hindered by conveyor design software that either doesn't exist, or, if it does, lacks flexibility, innovation, or generally slows you down. Recently, we've addressed these concerns by creating conveyor software to help conveyor automation integrators design better, more advanced conveyor systems easily.
The

In-Context Configurator

You've Been Waiting For
Automation system engineers and designers have long desired an in-context configurator that combines access to 3D CAD and solid modeling tools with prices, part numbers, and capabilities in real time. Instead of configurators that deliver "fixed" models with no built-in intelligence, making models intelligent shortens (or eliminates) supplier interactions, saves time, and reduces costs overall.
Our system incorporates advanced solid modeling techniques such as snap-to mating features, allows multiple operational states, and drives dynamic bills of material. The models are incredibly accurate and can even be used to design the positioning of your own equipment.
At risk of sounding like we're bragging, we know how much applications engineers need a tool that does exactly these things; that's why we created it, and it's one of the leading-edge ways you're able to configure automated conveyor system designs. Glide-Line solved the challenges offered by other configurators with the only 100% configurable conveyor technology software, called IMPACT!.
Some of the challenges it solves include:
It requires no special software. It lives on your own computer, locally, and works directly with SOLIDWORKS.
It's dynamic. When you update details on your layout, the configurable conveyor technology software dynamically updates part numbers and pricing instantly from the millions of SOLIDWORKS configurations available.
It's easy to use and requires very little training. The heart of the system is Excel-based, so if you can use Excel, you can use IMPACT!.
Software Increases Flexibility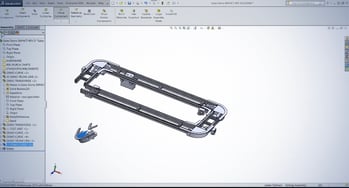 The entire world of conveyor possibilities is opened with an in-context configurator. Not only is pricing and modeling dynamic, but so are the variations for conveyors and what they can be created to accomplish.
Using in-context software, applications engineers are able to design details the way they want them, driving location and orientation, splice locations, and creating mini "specialty" design changes according to customers' needs.
In-context Software Drives Innovation
Other industries have been able to speed up delivery, assembly, and personalization efforts using technology advancements, so why should the automated conveyor systems industry be lagging behind?
Using twenty-first century engineering tools and manufacturing techniques, we've been able to make delivery times twice as fast and make custom configurations available at no premium. We're using the same concepts from other industries to advance what we can do for integrators every day.
Leading-Edge Configurations that

Solve Client Needs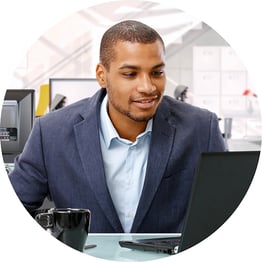 Our goal is to solve problems that other conveyor manufacturers aren't solving. Read some examples of leading-edge ways we're changing the game for creative applications engineers with additional innovations.
Combining a conveyor with an axis of motion allows your customer to accomplish tasks in a unique way. Instead of ground-up design that's completely linear, you have a tool to solve the problem and utilize stacked single or multiple strand conveyors. We call this our 360 product.
Using a better-designed vertical transport unit (VTU), engineers are able to use VTUs in a more innovative way. While the accepted industry standard design of these units is to utilize a pneumatic rodless cylinder on one side of the moving deck and then cantilever the deck out, this updated design does four main things:
Avoids the cantilever design for a much more robust assembly
Uses a servo or stepper motor drive for speed and motion control, resulting in faster cycle times that are gentler for your product
Allows for multiple stop positions anywhere along the height and opens the doors for sorting applications or other multi-positional applications
Eliminates the slip stick effect associated with pneumatic actuators.
Create a cleaner, more compact, and energy efficient conveyor system using a smaller motor such as the 24VDC motor with integrated driver card options. This compact motor takes very

little space and is a maintenance friendly option for integrators building for clean manufacturing areas.
Significantly reduce back pressure using one small DC motor per zone. Instead of going from belt to roller chain, getting bigger gear boxes, larger motors, and extra stops, these motors actually stop in each zone to reduce the backpressure of products backing up on one another and prevents wear and tear on the belts. Download our whitepaper on this exact use case to learn more.
As you are helping to develop an automation solution for your customer, innovation and creativity help set you and your team apart from others. Additionally, 3D CAD models help to drive the solution home. Design advanced conveyor systems using the most leading-edge technology and innovative ideas available to truly create the systems your customers need.