Improve the effectiveness of transfers throughout your customers' automation lines with these modular transfer options from Glide-Line. Whether you're looking for a simple conveyor-to-conveyor transfer device or a conveyor unit that will help transfer products from one piece of equipment to another, Glide-Line's configurable options give the gentle handling, swift motion, and equipment efficiency you're looking for. Here are some options we think you'll love (because our clients already do!).
Lift Transfer Unit:

raises pallets up and over the guide rail
The Lift Transfer Unit features a pair of belts that lift to engage the pallet onto perpendicular conveyors. The LTU can be equipped with standard, anti-static or clean-room rated belts.The lift action raises the pallet up and over the guide rail so the pallet is moved seamlessly onto the adjacent transport conveyor.
Why clients love the Lift Transfer Unit:
It has the ability to transfer a pallet across a 3- or 4-way intersection (this is the only LTU in its class that can do this!).
It allows for work-piece pallets to be transferred 90 degrees in any direction.
It's highly modular and has bolt-up capacity to be used with other leading brands.
Customizing and building your own model, including pricing, is simple. View the video here:
Curve:

change pallet orientation at any angle using slave-driven power
The Curve from Glide-Line is a mechanism to change the direction of a pallet. Pallets are conveyed around the Curve by means of a solid, round urethane belt that is driven on v-groove pulleys. They are typically slave-driven off an adjacent conveyor by extending the o-ring belt into the upstream or downstream conveyor, making them highly efficient and saving extra drives and related motor controls.
Why clients love the Curve:
Curves can be configured at varying angles between 15 and 270 degrees to alter the direction of a pallet while maintaining a leading edge.
It has the ability to transfer pallets between conveyors that are positioned at odd angles to one another because it can be configured in 1-mm increments.
See how easy it is to customize your own model and generate pricing using our in-context configurator. View a demo here:
DART Drop and Rotate Transfer Unit:

rotating conveyor to maintain or keep pallet orientation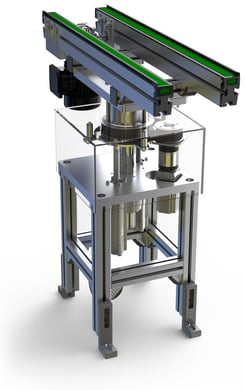 The DART Drop and Rotate Transfer Unit is a powered conveyor that can rotate from 1 degree to 360 degrees to accomplish almost any angle transfer in a system, including conventional right angle transfers. The pallet can either rotate with it (changing orientation) or stay static (maintaining orientation).
Why clients love the DART:
The DART is great for customers who need to convey their product directly on the conveyor belt (as opposed to the work-piece pallet) since the entire conveyor can rotate.
It rotates entire conveyor sections.
It can be used for any angle transfers, with the ability to drop/lift in order to avoid interfering with nearby equipment.
It can accomplish any transfer direction without a work-piece pallet while rotating around its center.
A similar unit exists without the lift cylinder: the Glide-Line CRU. This unit is particularly effective when conveying products on the belt instead of on a pallet, or for extra large products. Like the DART, it can rotate entire conveyor sections, either about their center or about an offset axis.
Transfer Bridge:

a custom-developed solution for fragile products providing an "end drive" support during transfer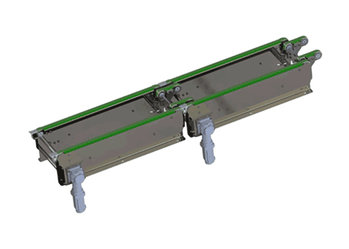 The Transfer Bridge conveyor solution provides supplemental support while a product is going over an end to end transfer. A special frame is used to accommodate an "end drive" instead of a standard center drive. This allows the client to utilize a belt material for fragile products, which otherwise would not work well in a center drive arrangement.
Why clients love the Transfer Bridge:
It helps product transfer very reliably with no loss of motion at the transfer points.
It's very effective when gentle product handling is required; ensures the product does not rock/jar when transferring between conveyors.
Pop Up Right Angle Transfer:

transfers large products 90 degrees quickly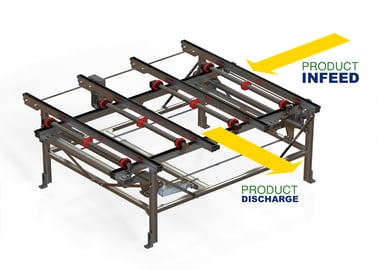 The Pop Up Right Angle Transfer allows for product to be transferred 90 degrees to another conveyor line. The quick and seamless automated transfer of product between conveyor systems is fully customizable when it comes to its size, number of strands, and number of rollers.
Why clients love the Pop Up Right Angle Transfer:
For systems with VERY large product (such as windows, solar panels, or other large fragile pieces), this device allows for 90° transfers
Rubber rollers ensure gentle product handling without scuffs or marks.
It utilizes a single air cylinder, eliminating the need to sync multiple pop-up cylinders.
Dual Pop Up Transfer:

horizontal transfers of large products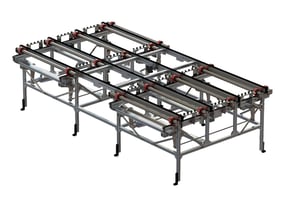 The Dual Pop Up Transfer allows for horizontal transfer of very large products from one conveyor line to another. It allows product to be smoothly transferred to another conveyor line while maintaining orientation
Why clients love the Dual Pop Up Transfer:
It allows for quick and seamless automated transfer of very large products while also handling them gently.
It allows for transferring between parallel conveyors while maintaining product orientation.
It can handle 180° transfer of large products.
When transferring products, you and your clients can see the ingenuity that goes into each of our units - and this is just the beginning. Learn more in our guide, The Ultimate Guide to Creating a Flexible Automation Conveyor Application Solution. Download it today.