Medical devices have important jobs to perform. From testing kits to surgical instruments to complex technology, there's no room for error in assembly and no time to waste on damaged products. These elegant products need an equally elegant indexing conveyor solution, and that solution needs to have clean-room capacity, no jostling, and a completely controllable movement. Enter: the Zero Contact Zoned Conveyor from Glide-Line.
The Zero Contact Zoned Conveyor is simple with few parts
Our integrator clients from the medical industry have customers that are typically working in clean room environments, so they have some very specific needs when it comes to conveyors. For them, we've found the Zero Contact Zoned Conveyor to be a great fit because of its simplistic design. Any type of wear could lead towards debris generation, so the fewer moving components, the better. Our system is simple, but powerful, thanks to brushless DC motors with no required lubrication and a single moving part designed for 300,000 hours.
About Brushless DC Motors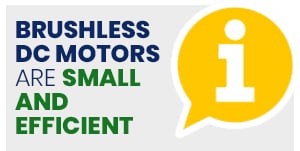 To manage each zone individually, the single AC motor used on a traditional conveyor is replaced by multiple small "pancake" 24V brushless DC motors – one for each zone. Brushless DC motors are small and efficient – an ideal fit for zoned indexing. They can provide full torque at low speeds and their small size means less inertia, allowing them to respond quickly to changing load conditions.
Each motor incorporates a driver card with integrated "zero contact" logic, and the motors are daisy-chained together to ensure that each zone operates only when needed. Pallet sensors are wired directly to the driver card for the motor, which means even less I/O, fewer motor starters or VFDs, less code development, simpler wiring, and reduced overall effort. Not only does this simplify the control scheme, it significantly reduces wear and replacement parts.
The DC motors used in Zero Contact Zoned Conveyor are compact and have virtually silent operation, making them ideal for noise-sensitive environments (or those where noise is already at or near maximum acceptable levels).
The Zero Contact Zoned Conveyor is built with flexibility in mind
We've designed the Zero Contact Zoned Conveyor to be modular, and we can include a number of special designs that our clients' customers from the medical industry have appreciated. For example, by expanding access to the product via an open center design, we eliminate the need for a specialty handling system to lift the product off the pallet or belt and flip it over to complete work on the bottom side of the product. This innovation reduces the cost of the pallet conveyor automation system and reduces the risk of damage to the product. Another possible use of the open center design is that vision systems can be installed to inspect parts from underneath.

The Zero Contact Zoned Conveyor is built to eliminate product contact
Pallets colliding is a big issue with traditional indexing conveyor designs because single-belt (or chain) conveyors employ hard stops. As a delicate medical device product moves down the line - BOOM - it hits the stop! With this traditional method, when a product stops, the subsequent products start to accumulate behind it. So now, not only is the first stopped product at risk, so are the rest of the products as the pallets collide with each other, one by one. BANG CRASH BOOM. Wasted time, money, and effort thanks to a flawed method. This calls for a more sophisticated handling solution.
Instead of relying on a rough single-belt method, controlled handling is another solution to consider. With Zero Contact Zoned Conveyor's indexing solution, your customers can achieve significantly improved control because it separates products to prevent damage. Each product has its own zone, and there are gaps between each one. Additionally, there are built-in, programmed controls that prevent pallets upstream from moving once one in front has stopped. Collisions and product jostling are a thing of the past.


Download the ebook, Indexing and Positioning: How to Reduce Damage, Have Smooth Motion, & Secure Your Product on the Conveyor Line today for a look at how the Zero Contact Zoned Conveyor can solve these and additional challenges for your medical industry clients!