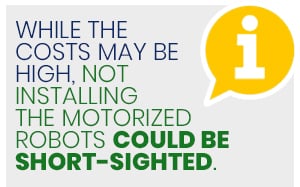 As manufacturing practices continue to rapidly change, it can be hard for your clients to know when to take on an investment like an AMR. While the costs may be high, not installing the motorized robots could be short-sighted. The good news is that there are options to optimize your clients' AMRs' efficiency, generating a higher ROI while improving work conditions and automating additional processes with the AMRs. An innovative, flexible conveyor solution, built for the top of the AMR, from Glide-Line is one of those options.
Here's how to tell if your client's manufacturing facility may be ready to explore this.
1.

You're aiming for maximum automation of repetitive movement.



When we've talked to manufacturers or integrators about automating steps in manufacturing, we often hear of the need to relieve pressure on personnel doing repetitive steps, motions, or work. Manufacturers want to relieve this pressure while still enabling employees to spend their time on higher value, more complicated tasks that can't be automated.
Conveyors mounted to AMRs help with this goal. The conveyor attachments from Glide-Line are unique and configurable, enabling you to explore creative ideas for automating simple tasks you may not have previously considered automating within your clients' processes.
2.

You wish the AMRs in your process could do more to assist in the manufacturing process.

Let's face it: robots fascinated us all as kids. The minute we saw C-3PO and R2-D2 walk down the halls of Leia's ship and across the sands of Tatooine, we were hooked. If you wish the AMRs currently in your client's manufacturing facility were as helpful as droids, you're in luck. With AMR conveyors from Glide-Line, we've gotten just a little closer to a galaxy far, far away.
Glide-Line's lightweight, powerful conveyors are specifically built to meet whatever requirements you can throw at them. They can handle up to 200 pounds of product and can tilt, turn, and be programmed to perform many helpful functions.
3. You've thought "wouldn't it be great if the AMR could automatically lift this box/product/platform onto itself?"

Yes, it would be great! That's why Glide-Line's AMR attachments are perfect for the task. They adapt to existing manufacturing environments and specifically assist with conveying boxes, products, or platforms off a fixed-mount conveyor and onto itself, then off to the next location needed once the AMR moves.
4.

You need to expand, but don't have the room or personnel to accommodate more manufacturing lines.

AMRs with conveyors don't add much extra bulk to your clients' AMRs. They're built to sit right on top and are operated using a powerful DC drive, built using lightweight but strong materials and high tensile strength belts. As a result, they can maneuver into smaller spaces and assist in conveying products on and off fixed lines within the facility. This makes expansion easier since you can utilize spaces you may not have been able to without a conveyor attachment.

5.

You like to be on the cutting edge of innovative manufacturing practices.

So do we - which is why we focus on delivering unique, innovative, creative conveyor solutions end to end. We offer AMR conveyor attachments, as well as a complete hybridized solution of both mobile and fixed-mount product handling conveyors appropriate for manufacturing and assembly. We have complete solutions for manufacturers wanting to deploy AMRs as part of their manufacturing environment, and we work with you as integrators to ensure your clients are fully utilizing conveyors where they can, which improves both efficiency and ROI.
Considering upgrading a facility to incorporate AMRs is likely a big step for most of your material handling manufacturing clients. Taking a leap into the world of AMR conveyors can seem daunting. But if you want to add efficiency, improve ROI, and automate even more steps in the process than an AMR alone can do, our team at Glide-Line is happy to help. Get started on your research into AMR-mounted conveyor solutions with our ebook, How Autonomous Mobile Robot (AMR) Integrators Incorporate A Lightweight, Customizable Conveyor To Adapt To Their Application and Product.