In short, yes - you can create a custom conveyor topper & framework for your AMR. Here's how.
There is a chance that a standard, off-the-shelf AMR conveyor will not solve your project-specific challenges. Many manufacturers of AMRs are only selling a basic conveyor topper solution, if any at all; while a traditional conveyor manufacturer may create some AMR applications, for many manufacturing and warehouse operations, customization is key.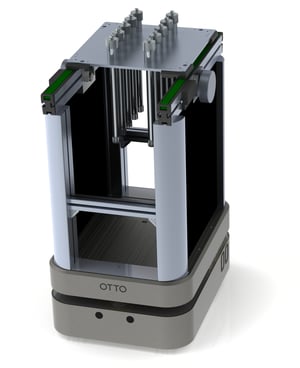 Let's say your client's AMR is working in a tight environment. Your client likely needs a custom solution that fits within their limited space. Or how about a manufacturer of delicate and/or small products? They may need a conveyor topper that can safely transport materials and products from AMR to workstation, and a traditional conveyor with jostling, pressure, and the potential to cause product damage just isn't going to cut it.
Instead, your client may need a custom solution. Glide-Line can help you build the right custom, project-specific conveyor topper and framework for your client's challenge -- without the hefty price
increase of most manufacturers. One of our most unique standard-sized conveyor topper solutions is called the Glide-Line 360; we've taken our expertise and innovation from that conveyor and applied it to customizing Automated Mobile Robots.
Customization Comes Standard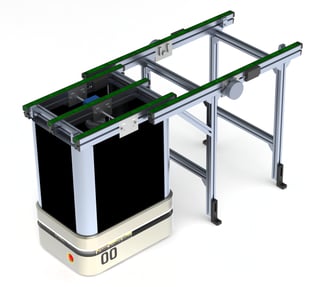 Sometimes, "off the shelf" is enough. But to build a high quality system, all the pieces - not just the
client's workspace - you may need to adapt. Customization comes standard at Glide-Line. Whether you are looking for a specific AMR topper, or a tailor-made solution, our innovative conveyor applications can solve unique challenges.
These are just a few of the AMR toppers available for configuration:
Small Diameter Nose Bar/Tight Transfer
Multi-Drive
Customized, Project-Based Solutions
We can design a solution that incorporates any AMR modification options your client needs. Do requirements call for an AMR conveyor toppers to tilt, lift, or rotate? We have that option. How about conveyors for AMRs that shuttle, divert, merge, stack, sort, or transfer? Ditto.
We can configure your AMR conveyor topper and framework to augment an AMR working in tight workspaces. We can adapt it to your client's current needs, not the other way around. With Glide-Line, we can build you an AMR conveyor that fits seamlessly into your client's workspace and your integration design.
But customization is not where the benefits end. With us, configuration is the standard. Glide-Line goes above and beyond, and doesn't charge you extra money or time. In fact, we offer the best lead time in the industry. You can even create and order a custom solution as you would a standard conveyor option. Check out our ebook about 50% less lead time here.
Where Customization Meets Flexibility
Customization and flexibility are our mission. With the AMR revolution in full swing, we've adapted our line to include the right conveyor topper AMR solution built for your specific client requirements.
Autonomous Robots play a bigger role in manufacturing and warehouse operations, and that will only increase in the future. Ahead of this trend, we continue to drive innovation across our suite of AMR conveyor toppers. For example, recently we have added doors to our AMR conveyor's mounting frame. This allows easy maintenance access to the AMR.
If your next project involves unique AMR integration needs, consider Glide-Line. We can deliver you the right customized AMR conveyor topper and framework that solves your client's biggest pain points. As the automation revolution marches on, the key to AMR conveyor solutions is tailoring the conveyor for each application.
Want to Learn More? Check Out our FREE ebook, How Autonomous Mobile Robot (AMR) Integrators Incorporate A Lightweight, Customizable Conveyor To Adapt To Their Product.

Already know what you need? Design it yourself using our free-to-use configurator software, IMPACT!. With this level of flexibility and configurability, Glide-Line is a great option for the integrator looking to incorporate AMR conveyors into their overall conveyor system.