Working with Glide-Line is fast: from quoting to delivery. Each of our conveyors is designed and built with flexible configurability and elegant motion, creating an efficient, hassle-free customer experience. We strive to be the easiest conveyor system manufacturer to work with.
Below are 4 of our most frequently asked questions and answers about Glide-Line's conveyor equipment

Can Glide-Line Help Me Reduce Overall System Cost?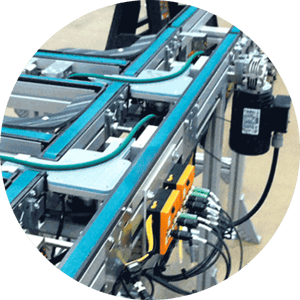 Yes. We have taken old technology and brought it into the 21st century. We have developed a number of flexible, creative solutions to maximize line efficiencies. Some examples include slave-driven devices, 24vdc drives, and our 360 solutions. With these tools and more, we aim to maximize your layouts, therefore reducing valuable space requirements on the plant floor and generating significant cost savings.
In addition, our IMPACT! Solidworks configuration tools produce 100% accurate solid models and autogenerate part numbers and pricing, all in an effort to save you valuable time and money.
Finally, shipping configured assemblies, instead of a box of parts, we believe our overall solution provides by far the greatest in the market. We have the fastest lead times in the industry!
What Increments Can Conveyors and Devices Be Configured To?
Glide-Line's conveyors, pallets, and other devices are configurable in 1-millimeter increments, making them extremely versatile to any spacing or product needs. For example, a problematic-sized pallet or tray can easily be accommodated in this situation since both the pallet and the conveyor can be adjusted in length and width to move the product. Check out a RECENT CASE STUDY we produced about just such a product
What Tools Do You Offer for Configuring Conveyors
Instead of wasting time going back and forth with a sales engineer, Glide-Line offers an online, in-context configurator that saves your work, provides estimates as you make adjustments, and works with Solidworks. It's called IMPACT!, and it's completely free to download and use.
Will Your Conveyors Match Our Specifications?
The most important question when evaluating a conveyor manufacturer is, of course, whether or not they have a conveyor or system that can accomplish what you need. If it's specific spatial challenges, you'll need a solution with a small footprint that can still handle the capacity necessary. If you need a system to handle tight corners or work around other equipment, you need a solution that can make the turns and curves in the manner you need.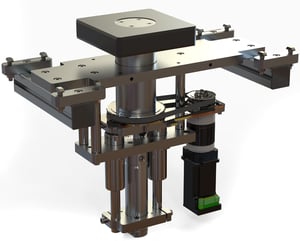 And if it's gentle handling, you need a conveyor that won't damage your products. We can't speak for all of the specs you may need, but chances are, no matter what challenge you're facing or what you're trying to accomplish with a conveyor, GlideLine has a solution. We love to be challenged by unique product needs. Here are just a few examples of conveyors we offer as standard, which started as solutions to unique customer needs:
We can answer any questions you have about our conveyor systems, or you can get started yourself by using our in-context configurator, IMPACT!. It helps set a baseline for your needs so we can have a starting point, while also giving you an accurate estimate of capabilities and costs. IMPACT! is where we recommend everyone start.
Glide-Line offers the most versatile panel and pallet-handling solutions available for the assembly automation industry. If you know what you are looking for, please reach out or download our IMPACT! Software to get started. Keep in mind, that Glide-Line's modular design, streamlined and automated engineering process and simple construction of conveyors and systems provide you with limitless flexibility. We can customize any solution to meet your client's exact needs!