Efficiency.

Simplicity.

Optimization.

To us, these aren't just buzzwords! With the Glide-Line's Zero Contact Zoned Conveyor, we have built a solution that minimizes cost/effort and maximizes results.

How?

By tackling common conveyor pain points head on. Through the use of well-designed control functions, the Zero Contact Zoned Conveyor line attacks multiple issues at the source.

Read on to learn how the Zero Contact Zoned Conveyor control functions minimize effort and maximize results!



1. Control Functions Minimize Product Damage With Zero Contact Zoned Conveyors
The Glide-Line Zero Contact Zoned Conveyor's control functions help reduce two major areas of concern: backpressure and product damage.
Backpressure is an issue in any traditional conveyor system. Pallets banging into each other result in product damage, products sometimes getting dislodged from fixturing, and other hidden costs.
Zero Contact Zoned Conveyors avoid this issue through the use of automated zone control logic in the integrated driver cards. This means the conveyor automatically stops at the first sign of accumulation instead of product banging into each other damaging product, dislodging parts from fixtures and creating additional wear and tear
In addition, Zero Contact Zoned Conveyors use separate zones instead of a single belt. This results in a permanent gap between products. A permanent gap drastically reduces the chance of any product damage because the pallets never touch each other!
Lower product damage means lower manufacturing costs. The zero pressure accumulation controls also minimize wear and tear, reducing your end-user's total cost of ownership.
2. Zero Contact Zoned Conveyor's Control Functions Minimize Energy Usage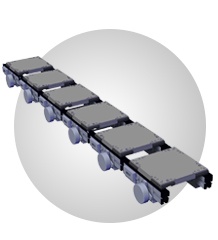 Energy is a major operating cost for any conveyor system. One of the easiest ways to reduce your operating costs is to fine-tune energy usage to maximum efficiency.
The built in control functions on Zero Contact Zoned Conveyors use energy incredibly efficiently. Typically, traditional conveyors run all day using an AC motor and a worm gearbox. This leads to heavy electric bills, much of it energy that's gone to waste.
Zero Contact Zoned Conveyors are powered by a dedicated brushless DC motor with a purpose built driver card that allows the conveyor to only run when needed zone to zone. This can deliver energy cost savings of 20-40%!
Energy costs may be a major operating costs, but you can greatly reduce it by only utilizing electricity when needed. With Zero Contact Zoned Conveyors, you can do just that!
3. The Zero Contact Zoned Conveyor's Control Functions Prevent Particulate Generation
When designing a hygienic conveyor system, preventing particulate generation is key. This can be an issue when designing a system with traditional conveyor belts.
On traditional conveyors, pallets can accumulate on a moving belt, leading to wear and tear. This wear and tear can lead to the creation of particulates.
With the Zero Contact Zoned Conveyor, this is not an issue. Because we use separate zones instead of a single belt and turn them off when it is time to accumulate, there is no issue of a belt wearing out and generating particulates.
With our alternative to traditional conveyor products, you can build a more hygienic conveyor system for the specific needs of your clients (such as food processing).
4. The Zero Contact Zoned Conveyor's Control Functions Extend The Useful Life of Conveyor Systems
Energy waste and product waste aren't the only controllable costs. With the control functions built into Glide-Line's Zero Contact Zoned Conveyors, you can extend the system's useful life.
Reducing wear and tear can save your clients time and money by reducing the resources spent on maintenance and replacement.
Our control functions eliminate friction from backpressure, which reduces wear and tear. The simplified power transmission (DC motor that only runs as needed) improves reliability and reduces maintenance needs.
The last thing your end-users want to do is waste time "putting out fires" on the conveyor line. By using Zero Contact Zoned Conveyors, you can deliver reliable systems with minimal maintenance and replacement costs.
Efficient AND Customizable
A high level of efficiency isn't the only thing the Zero Contact Zoned Conveyor brings to the table. All Glide-Line conveyors can be customized for your client's specific needs!
Here are a few reasons how Glide-Line can help you meet your customer's expectations:
Our conveyors are highly modular, allowing us to quickly deliver customized solutions
Thanks to our IMPACT! Configuration tool, we can provide instant, accurate pricing for your customized solution
In an ever-changing manufacturing landscape, go with the conveyors that can best adapt to the challenge!
Add It All Up: All Signs Point to the Zero Contact Zoned Conveyor
Traditional conveyors and traditional means of accumulation has flaws. They are inefficient consumers of energy, causing unnecessary electricity bills.
Their design fails to prevent backpressure and products banging into each other. This results in damaged product and other countless headaches.
These inefficiencies compound into added wear-and-tear and particulate generation. This means more frequent required maintenance and a reduced useful life for the conveyors
The Zero Contact Zoned Conveyor line changes this completely. Through a well-crafted multi-zone design, pallets are always separated from each other. With a well-developed control function, your clients will experience reduced costs and less need to monitor conveyor performance.
Add all this, with customizable solutions, and you have yourself the ingredients for the ideal conveyor system.
Why bother with the hassles of traditional conveyor backpressure and wear and tear? Build your clients the system they demand using Zero Contact Zoned Conveyors!
Ready to Get Started? Contact Us Now To See if Glide-Line's Zero Contact Zoned Conveyors can help you build a cost-efficient system!