They're light, powerful, and maximize your investment in your Autonomous Mobile Robots (AMRs). Just like Muhammad Ali changed the game of boxing forever, AMRs have the potential to revolutionize manufacturing. By providing a new means of infinitely flexible automation workflow, plants can reduce their labor costs and improve margins in a highly competitive environment.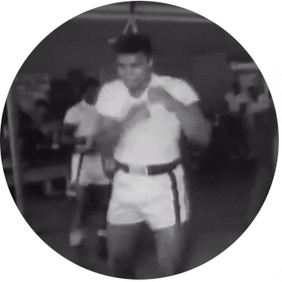 While many automation innovations have yet to provide a compelling ROI, investments in AMRs can pay for themselves in a short time with their extreme flexibility. You can improve the automation value of AMRs even further with conveyor solutions on top of the vehicles by reducing the labor component required with manual loading / unloading. With AMRs and conveyors, end users can efficiently move items all over the facility. This can be a cost-effective alternative to traditional manual methods but certainly increases flexibility as well.
What does Glide-Line have to offer in the world of AMR conveyor toppers?
We offer you a light, yet powerful design capable of maximizing payload while minimizing battery usage. Our line of AMR conveyor toppers offer high flexibility and configurability. DC-driven, GlideLine AMR conveyors toppers also offer high durability and are easy to service.
Lightweight, yet POWERFUL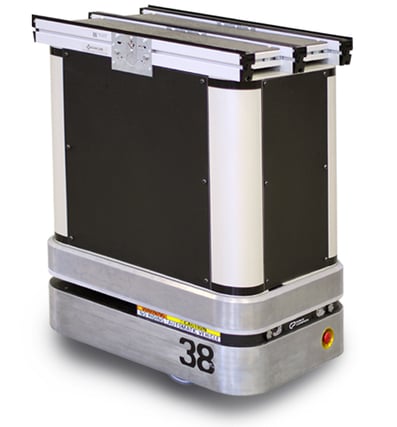 With Glide-Line's conveyor toppers for autonomous mobile robots, you can achieve "light and powerful" in the same product. Using aluminum extrusion construction, our product maximizes payload while still being a lightweight solution.
Another key feature that improves performance with minimal weight is using a timing belt as the conveying medium. This conveyor topper type has a high tensile strength and performance is enhanced with the use of a T5 teeth around the drive pulley. This provides strong drive and traction for the conveyor topper.
Glide-Line AMR conveyor toppers provide high power with minimal energy usage. DC-powered motors are our standard solution for AMRs. These motors are extremely compact and lightweight. Even the heaviest allowable loads do not quickly drain the battery. This makes it a compelling option for small to medium-sized loads (up to 200 pounds).

Maximize Efficiency of Your AMR Fleet
A lightweight, but powerful design reduces battery drain (improving automation ROI). It also allows you to run your AMR conveyor toppers for a longer share of the day. With any AMR, recharging has a significant time and opportunity cost. The longer it takes to recharge, the less time you have to put the machine to work.
With our energy-efficient solution, you can keep your AMR running longer each day. This also improves the ROI of AMR-related automation, helping to make it a cost-effective alternative to traditional manual material replenishment.
"Glide-Line is based on innovation, excellent customer service, high quality and real speed." - Kevin Mauger, President of Glide-Line
For more information about our Conveyor Toppers for AMRs, check out another blog here: Autonomous Mobile Robot (AMR) Conveyors Toppers for Small Loads & Applications. OR, download our free resource…