When your clients are working with you to integrate lightweight autonomous mobile robots (AMRs), they're looking for the biggest bang for their buck.
Nimble solutions that overcome challenges are a top priority for your customer. That's why we've built incredibly flexible AMR conveyor topper applications that are designed to use minimal battery power while transferring small loads smoothly, straight to the destination.
Our customizable conveyor toppers for Autonomous Mobile Robots are perfect for moving small loads of materials and product. With simple mounting, our conveyors are easily added to the AMR and can be programmed to work precisely for your integration. Whether your end users are moving small items like electronic components, or small completed products such as insulin pumps, we have a customizable, project-specific solution.
Why Does an AMR Need a Conveyor Topper?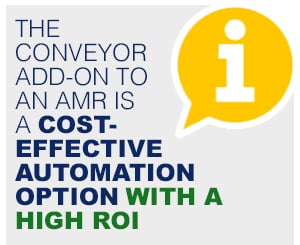 Your client is on board with the AMR revolution. They are using the devices to automate their factory or warehouse floor. So why do they need conveyors on their AMR's?
AMR conveyors enhance the benefits of employing Autonomous Mobile Robots. The conveyor addition can perform some of the remaining manual labor, including transferring the product from vehicles to workstations and vice versa. This conveyor topper add-on to an AMR is a cost-effective automation option with a high ROI.
Replacing additional manual operations with automation using flexible, reliable and smooth-operating conveyor toppers as part of the AMR they're already adding is a simple way to reduce cost and enhance productivity.
Glide-Line Conveyor Toppers for AMRs are Highly Customizable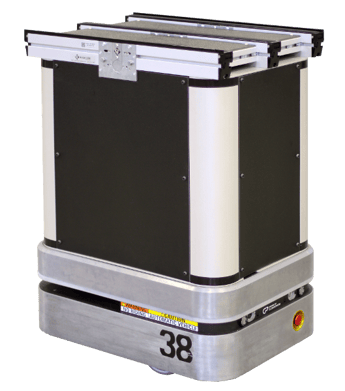 At Glide-Line, our foundation is built on flexible, innovative conveyor topper solutions. So when you're looking for conveyor toppers built to mount on an AGV or AMR to solve a unique challenge, we're here for you. We offer a full suite of options and add-ons, even on our more compact solutions. Say your client requires open-center conveyor topper design for their AGV. We have you covered! Lift and rotate options built directly on their AMR? Covered. Multi-strand and multi-drive? Ditto.
By offering accessories to complement the AMR solutions you're providing your clients, you save important time and development costs while bringing innovative solutions to your clients' processes. Glide-Line offers many flexible options when you're customizing Autonomous Mobile Robots using conveyor toppers.
We Can Configure You The Right Solution
At Glide-Line, our AMR conveyor applications are highly configurable. This level of customization goes down to the millimeter. We can place conveyors on AMRs as short as seven inches long.
We can quickly configure a solution for you, with lead times half that of our competitors. And if you know exactly what you need, you can quickly configure it yourself using our IMPACT! configuration software. This makes Glide-Line a solid choice for AMR conveyor topper solutions.


Want to Learn More? Check Out our FREE ebook, How Autonomous Mobile Robot (AMR) Integrators Incorporate A Lightweight, Customizable Conveyor To Adapt To Their Product