Does the conveyor portion of your automation project scope ever change?
It does?!?
(We thought so.) We all know that with fast-moving projects there are a lot of changes in a system scope or design through the life of the project. Reducing conveyor lead time while still accommodating scope changes for automated conveyor systems is a priority for the design engineers we work with. Even seemingly small changes can have big design implications, so minimizing the design time needed for these changes is has a huge impact (almost no pun intended).
We built an in-context configurator called IMPACT! to help. The purpose of using an in-context configurator is to eliminate unnecessary "hold times," where you're waiting for someone else to get back to you , and unnecessary busy work, where you're repeating steps you've already taken thanks to a change. In this post, I discuss the details of how you're able to eliminate these inefficient steps. To start, take a look at this comparison infographic: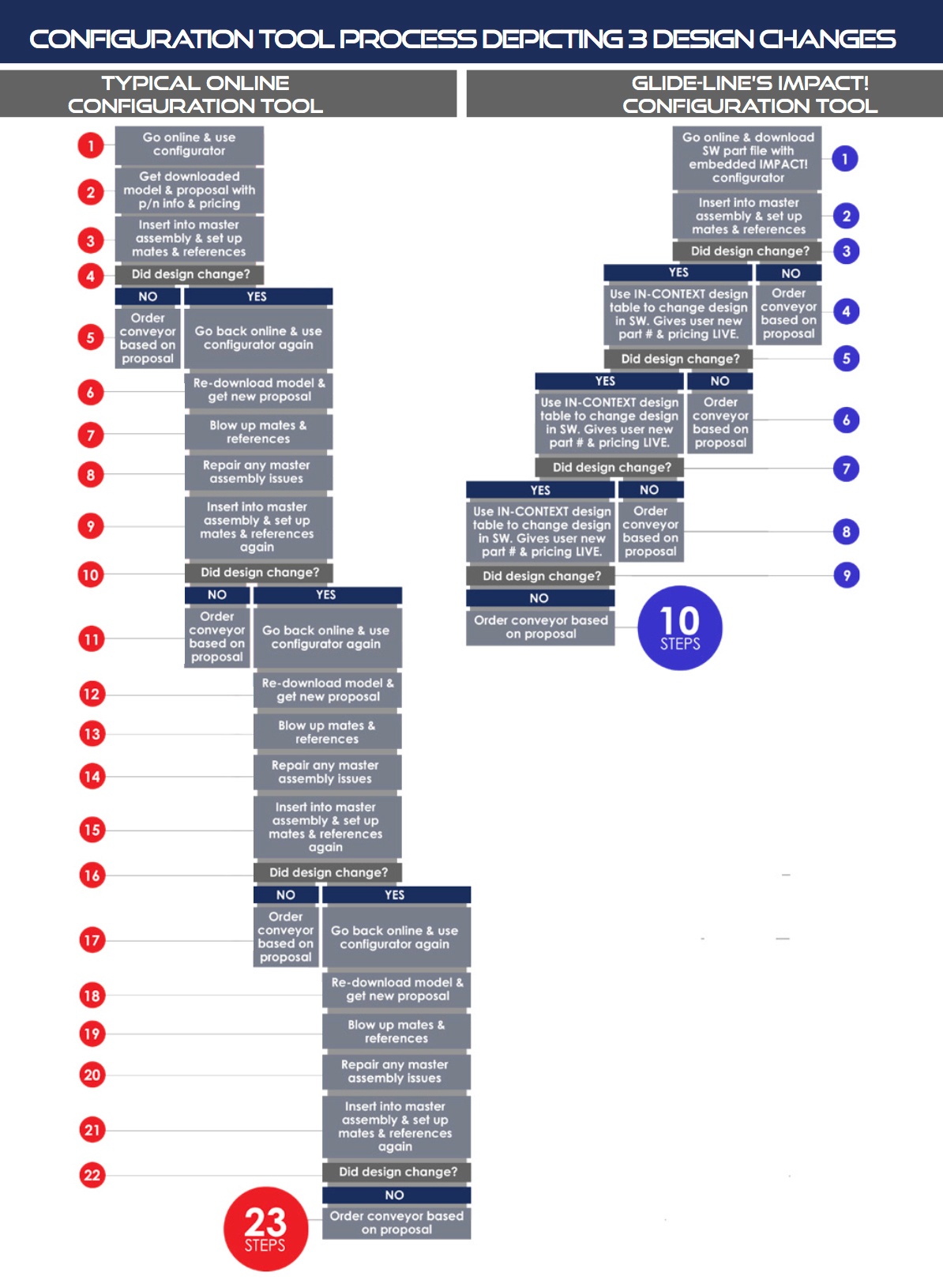 A typical online configuration tool (with just 3 design changes), as shown above, can take 23 steps to complete your conveyor project design – and that's on the conservative side. Using IMPACT!, Glide-Line's in-context configurator with a built-in SOLIDWORKS integration, only 10 steps are needed. We've calculated the conveyor design and engineering time savings, and it's over 73%. These are the three major ways you're able to reduce conveyor lead time using IMPACT!.
1. Configuring CAD Blocks


Using a typical online conveyor requires you to go back to the configuration tool (whether it's a web application or a locally installed application) and configure a new device to adopt requested changes. You're essentially re-creating a new part, downloading the file, uploading it to SOLIDWORKS, and starting from scratch on any mating and referencing for that part. Rinse and repeat for each part that needs changing. That's several steps and lots of time required for what could have been a simple request from the client.
IMPACT! is a configurable model library with variations all driven by Excel, which talks to Solidworks via an advanced API; there's no need to upload anything. When you select "create and insert SOLIDWORKS model," it'll insert that configured part in a model form. Once you create the model, the model exists - you can even have the Excel sheet count how many instances exist. It's always live and working together; there's no need duplicate effort.
IMPACT! also catches potential errors when changes are made. An example for comparison: if you're replacing your car's wiper blades and purchase new ones on Amazon, you're able to tell Amazon the make and model of your car to avoid buying the wrong blades. IMPACT! catches similar errors with its built-in Application Analysis Tools before you're able to sync or purchase the wrong size part.
2. Fast, Detailed Master Assembly Resolutions


As a design engineer, you're concerned with the nitty gritty details of a conveyor process design: where all the motors, cross members, leg locations, gearboxes, and splice joints are located. There's a lot of manual work going into your master assembly to account for all those details.
IMPACT! talks directly to SOLIDWORKS and gives you the flexibility you need to adjust any piece, part, size, or shape to meet your specific needs. If the line won't support a drive package in a particular location, no problem - shift the drive wherever it needs to be. If the application needs a hole in the middle so part of the product can hang down for inspection, great - an open center design can be applied to accommodate that need.
3. Immediate Feedback on Cost Implications

With many configurators, there's no price component. To get feedback on cost implications of changes you're making, the only way is to wait for a quote and go back and forth with the vendor for answers. This is not the case using IMPACT!. Pricing updates instantaneously using the Excel-based system; you make a change, and a new price is calibrated in real time.
Save conveyor lead time using IMPACT!. It's simple to learn since it's Excel-based, and it will seriously change your expectations as you apply its easy-to-use functionality to your designs. Get started today.
Not quite convinced? That's okay too. Check out our ebook, How To Reduce Time Spent Designing and Updating Your Conveyor Project, for more information.