Speed and efficiency are still the main goals when automating the repetitive processes during your manufacturing and assembly tasks. The use of Autonomous Mobile Robots (AMRs) can add greater productivity to your facility, but you need to integrate these solutions seamlessly with your conveyors and product handling systems. These conveyor topper solutions will help you increase the ROI of your customer's AMRs while transferring workpieces between different production lines and/or workstations.
What Glide-Line's

Conveyors for AMRs

Can Do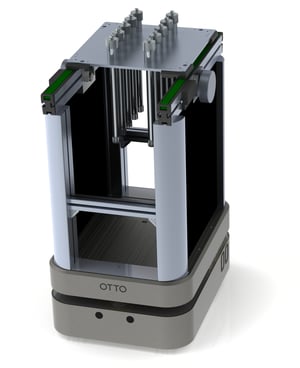 Modular, conveyor topper solutions from Glide-Line allow you to maximize your overall equipment effectiveness (OEE) by automating repetitive tasks accurately. Using AMRs to increase productivity requires the precise and repeatable execution of the process every time without resorting to human intervention. If operators have to transfer products from the assembly line to the AMR or AGV and back, your customers aren't reaping all of the benefits available from their investment.
Accessories that complement AMRs and make it possible to integrate these devices directly with your conveyor system are the Holy Grail in manufacturing automation. Precise control with product manipulation capabilities opens up a new vista of opportunity in production efficiency. Let's look at some of Glide-Line's innovative AMR conveyor topper capabilities.

Mind the Gaps
If you have to transfer a workpiece or pallet from one conveyor to the next, having the same topper on the AMR as the conveyor is the most efficient design. The topper should be lightweight but strong enough to support the product between the two lines without increasing energy consumption.
Glide-Line's conveyors for AMRs help reduce the power-to-weight ratio of your toppers to increase efficiency and maximize the uptime between battery charges. Our AMR toppers allow you to:
Transfer pallets and workpieces between two lines while limiting battery drain
Integrate the conveyor design for automated interfaces with the AMR
Customize the topper according to your specific manufacturing or product handling needs

Orientate and Present Items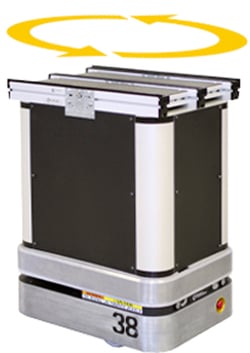 In some cases, you'll want to lift or rotate the product on the AMR before transferring it to the next workstation. A lift or rotate accessory that precisely manipulates the product during the transfer will ensure you limit the system's complexity and deliver each item accurately to the following production process.
Our AMR conveyor topper solutions can:
Rotate products by 360° to ensure the precise orientation of each product or pallet at interface points
Lift products during the transfer to reach different heights between conveyor lines or workstations
Interface with your conveyors for accurate pickup and delivery per your application needs

Have Lightweight Customizable Designs
With open frame construction and enclosed frameworks design available, you can support any kind of product using Glide-Line's AMR topper solutions. Just like our timing belt and roller chain conveyors, our toppers are configurable and customizable to support your unique requirements. With our AMR toppers, you benefit from:
A compact and powerful DC motor that lets you sidestep the current VFD shortage
Lightweight construction with high-tensile strength timing belts for increased OEE
Integrations with a range of custom and standard solutions to automate all your product handling requirements
Integrate our AMR Conveyors and Toppers for

Maximized Production Efficiency
Glide-Line works with integrators and AMR manufacturers to find the ideal solution design depending on your application requirements. Our toppers add less weight to the system while ensuring you can orientate, rotate, lift, and transfer items efficiently between different production lines.
For engineers and integrators that want an optimized AMR topper solution from Glide-Lines, get in touch here.