When designing a solution for the safe and efficient transfer of large glass products, engineers need to overcome a host of different challenges. For each item coming down the line, product safety and expert control remain the biggest concerns. When handling glass products of various sizes, innovative solutions are required for their gentle transfer, orientation, presentation, access, and exposure on the production line.
In this blog, we'll look at how you can integrate material-handling conveyor equipment into your production line to effectively transfer delicate products such as panes of glass, solar panels, LCD screens, and large touch panels. For these applications, the production process demands precision control for each transfer between operator stations, conveyor lines, and storage or retrieval areas.
Material Handling Conveyor Equipment for

Transferring Glass Products
The manufacturing process for delicate glass products usually has multiple stages that progress from the main trunk line to transverse lines or spur lines and finally to different workstations. You may want to inspect products between these stages and transfer them to other areas. Your production efficiency and quality control will depend on each line's built-in level of automation, so the following material-handling conveyor solutions can provide you with the maximum flexibility and the ability to gently move products through your facility.

Transferring Glass Products between Two Conveyor Lines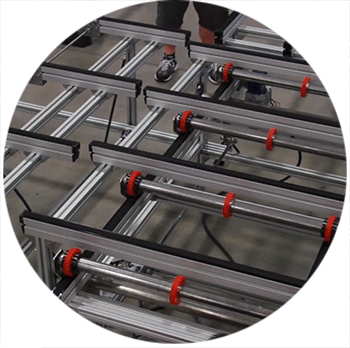 For 90° direction changes and transfers between conveyor lines, a pop-up right-angle transfer unit can protect the item throughout this transfer by using non-marking rollers. This is especially helpful when working with larger, more delicate products. The unit should integrate seamlessly with your conveyor line and allow your product to transfer quickly, efficiently, and automatically.
The pop-up right angle transfer unit provides:
A flexible transfer solution with different sizes available and any number of strands required to support the product
A simplified design that uses a single air cylinder to avoid the complexity of synchronizing multiple cylinders
The completely automated transfer of any sized delicate product between two conveyor lines at a 90° angle
These units are also available as dual pop-up transfer units for larger applications that must be transferred while maintaining the product's orientation.

Avoiding Bottlenecks on the Assembly Line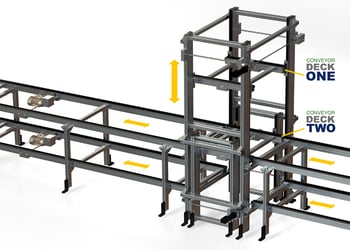 When manufacturing glass products that have multiple process stages, you can quickly run into bottlenecks that slow down production and sometimes require human intervention. To avoid these situations, a bypass lift or pass-through vertical transfer unit can help stage products more efficiently throughout the manufacturing process.
These devices allow you to:
Access a product without obstructing the flow of traffic for other items coming down the line
Perform work on the product at multiple different stations above the main line
Configure the bypass or pass-through vertical lift based on your product's size and vertical lift requirements

Multiple Direction Changes and Traffic Control
To avoid bottlenecking on the line, it could be necessary to queue up products during the manufacturing process and allow operators to attend to other tasks. A multiple-position vertical transfer unit enables you to use a rack feeder to transfer products from one or more infeed conveyors onto multiple discharge conveyors or to temporary storage. These feeders are fully customizable. You can design the units to support your existing manufacturing system and assembly line while simultaneously avoiding product build-up and automatically transferring your products.
For direction changes, you can opt for a lift and transfer unit that supports up to four-way traffic control. Alternatively, you may choose to install a drop and rotate transfer unit or specialized rotation units according to your needs.
These units enable you to:
Configure a transfer and rotation solution according to your facility's requirements
Control rotation either manually or electrically for consistently precise product handling
Save space in your facility while still gently transferring products between different stations
Design Your Ideal Glass Transfer Solution with

Material Handling Conveyor Equipment from Glide-Line
At Glide-Line, we work with our customers to find the perfect solution for their product handling needs. With customized solutions for almost every application available, you can design your glass transfer solutions easily using our IMPACT! software. If you need to increase your production efficiency and improve your product quality throughout, you'll need the assistance of innovative systems. These can help you automate the bulk of your manufacturing and assembly processes without damaging the product.
To discuss your glass transfer and product handling needs with one of our experts today, reach out to Glide-Line here.