Automotive parts manufacturers have to be creative with their plant layouts to remain productive and profitable. At Glide-Line, we continue to optimize our conveyor designs to maximize Overall Equipment Effectiveness (OEE) and let manufacturers increase throughput while reducing product liability concerns.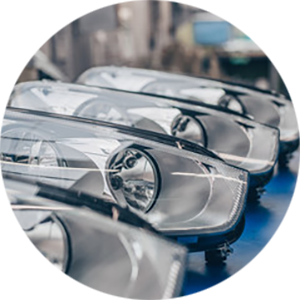 Whether you produce headlights, underbody trays, assemblies, metal panels, or under-the-hood components, a modular and flexible conveyor design helps you avoid product damage by elegantly moving parts through your plant. When you can handle these products directly on the line, you eliminate the need for pallets that increase your conveyor's footprint. Glide-Line's Zero Contact Zoned Conveyor solution makes it possible to control each processing zone expertly without risking damage from scuffs or bumps during movement to your product.
To see how our solutions can assist your automotive parts manufacturing process, check out our capabilities below.
Pairing Timing Belts
with Zero Contact Zoned Conveyors
We can handle small or larger products and assemblies on our Zero Contact Zoned Conveyor. Our timing belt solution is our base handling solution which helps us solve any movement or layout challenges, so you don't sacrifice your design freedom. That paired with our Zero Contact Zoned Conveyor provides custom accumulation with an individual drive for every product zone. By controlling each zone individually, we removed issues caused by product contact and have improved accumulation methods.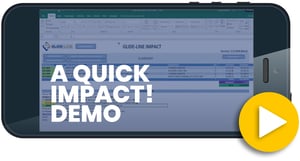 Glide-Line's IMPACT! software allows you to design your complete system from a library of modular conveyor components and custom standard solutions. You can do this on your own to generate a model, see pricing and part numbers. To see which conveying medium is right for your application, checkout this video.
Our solutions can support both direct product handling conveying, for wide products like a garage door panel, or a refrigerator door and work-piece pallet conveying for parts that have defined pressure points, need extreme precision locating the pallet or if the product isn't wide enough to span over multiple strands.
Elegant Product Control

through Process Zones
To improve repeatability, the Zero Contact Zoned Conveyor provides precise control with dampened starts and stops. Each part enters and exits the zone individually, giving you the ability to direct the flow of products through the facility according to your sequencing and control requirements.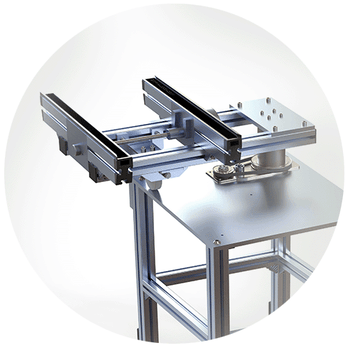 To manipulate products on the line, custom standard solutions include vertical transfer units (VTUs), pop-up transfers, or drop-and-rotate transfers (DARTs). If you need to maintain leading-edge orientation between different process stages, you have the design freedom to include any of these devices between the conveyor sections.
The ability to manipulate products directly on the conveyor (or even transfer vertically between floors) opens a range of new possibilities for automotive part manufacturers. Your facility becomes a new playground when you can optimize your layout to increase productivity by utilizing all available space.
Why Choose Glide-Line as

Your Automotive Parts Conveyor Manufacturer?
Glide-Line provides fast, flexible, and easy conveyor solutions to accommodate any kind of design challenge. To get a quote quickly, create your system's layout in your existing CAD model and our engineers will assist if you're unsure about a specific item's capabilities.
This shortens the runway of your project and ensures you get the quickest lead times in the industry. With our zero pressure accumulation conveyor designs, you can eliminate product damage and reduce wear and tear on the conveyor components. We're also adding new solutions all the time as we work with manufacturers to solve unique application challenges.
To see the exciting new options a Glide-Line conveyor design gives your automotive part manufacturing facility, get in touch today.