If you're in the market for a new conveyor system for your manufacturing facility, we understand that you want direct answers to all your questions and concerns. Choosing between conveyor manufacturers and finding a partner you can depend on to solve your unique challenges is no easy task.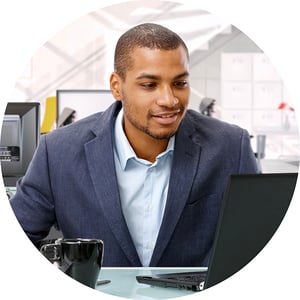 Not only do you need to vet the systems and technologies, you also have to contend with the prevailing market forces that have added delays and new obstacles throughout the entire manufacturing industry.
Some of the biggest economic challenges that you and your manufacturing partner will face today are:
Access to raw materials – Disruptions to global supply chains, labor shortages, and increasing backlogs of key components like VFDs mean you need an agile and responsive partnership to ensure success.
Market and demand volatility – The market for products and materials changes at a lightning pace today, and manufacturing partners have to rethink their strategic inventories to ensure they can deliver on time.
The Amazon Effect and instant gratification – Customer expectations put manufacturers under pressure to deliver in shorter times without compromising on quality by finding mutually beneficial partnerships.
At Glide-Line, we design each solution using in stock parts and materials primarily sourced in the USA, which ensures reliability to our customers. We buy mass volume and then configure to order. We are also vertically integrated which enables streamlined operations by taking ownership over more of the production process. This allows us to provide the best lead times in the industry which also helps our customers who are facing shifting product demand challenges and the ever increasing rush orders / projects.
Outside of considerations within our economic environment, we will also want to look at other main elements you'll want to consider when evaluating your potential conveyor system manufacturer.
What to Look for in

Your Conveyor System Manufacturer
The good news is we've put together this checklist with 27 specific questions to ask when carrying out a detailed assessment of your conveyor manufacturer's capabilities. In the rest of this blog, we'll summarize three of the key areas you will want to focus on to cull the list quickly and avoid engaging with manufacturers that won't be able to serve your needs.

Time, Cost, and Flexibility
Cookie-cutter conveyor designs aren't ideal. Your manufacturer should be flexible enough to provide you with standard options and customized solutions that fit within your time and cost constraints. Lead times and design flexibility will be one of the most important areas to consider when you evaluate specific manufacturers.
Look for a conveyor manufacturer that:
Provides you with the shortest lead times in the industry with modular conveyor designs
Have the manufacturing capabilities to provide both standard and customized solutions
Has a proven record of delivering on time and within budget using a flexible design approach
You can evaluate potential manufacturers by asking:
Can your conveyors be customized, and how much do customizations cost?

Glide-Line not only accommodates these requests, but plans their entire manufacturing process around them and does so at little to no added cost.

What increments can conveyors and devices be configured to?

Glide-Line's conveyors, pallets, and other devices are configurable in 1-millimeter increments, making them extremely versatile to any spacing or product needs.

Is your manufacturing process built with short lead times in mind, or are lead times immovable in your build process due to external factors?

Partnering with a versatile conveyor systems manufacturer like Glide-Line will do the most to shorten your lead time. Our manufacturing process is built for quick lead times; we can ship conveyors in two to three weeks, and devices such as lifts, lift and transfers, lift and locate stations, and more in four to six weeks. This conveyor lead time is cut in half compared to other manufacturers and saves your client significant time and money.

Overall Equipment Effectiveness (OEE)
Flexible design and short lead times are great but what happens if something goes wrong? Conveyor manufacturers need to optimize the system to increase OEE and limit downtime wherever possible. Reliability, services, repairs, and maintenance should be at the top of your list when evaluating criteria to engage with a manufacturer
Review potential manufacturers by asking:
How should I calculate the ROI of my conveyor?

The return on investment of your conveyor or conveyor system can be measured via its throughput, energy costs/savings, quality improvement, and time cost/savings for manufacturing, operation, and maintenance. There is obviously a lot to this, and depends upon your company's specific determination for ROI. At Glide-Line, we'd be happy to walk you through the key factors to help determine this.

What are you best known for in the industry?

Each manufacturer likely has a specialty in the industry - something they're passionate about and known for. Glide-Line, for example, is best known for flexible designs that can be adjusted and customized to any size, and our clients appreciate the attention to detail we pay to solving conveyor challenges whole-heartedly with innovative solutions. Here's one of our testimonials.

What tools do you offer for configuring conveyors in a line?

Glide-Line offers an online, in-context configurator that saves your work, provides estimates as you make adjustments, and works with Solidworks. It's called IMPACT!, and it's completely free to download and use.


Modern Technologies and Engineering Support
The final group of questions you need to ask is what technologies and engineering support the company brings to the table. Our Roller Chain and Timing Belt conveyors are both state-of-the-art base systems that allow you endless design freedom while standardized yet modular custom solutions ensure you always have the parts you need to keep the line running smoothly.
Consider the following when choosing a conveyor manufacturer:
Is there something different in the company's manufacturing process, enabling them to produce engineered designs quicker than most?

A traditional company will simply speed up their current process to accommodate a shorter lead time request, often on your client's dime (and possibly at the expense of attention to detail). However, an innovative company will employ a more efficient conveyor manufacturing to address this frequent concern of applications engineers. Glide-Line, for example, has designed their manufacturing process for conveyor systems around customers' desires for a shorter lead time, effectively cutting lead times in half for all standard and configured orders. It's not a unique request, and our process doesn't need to be tailored to meet it; our process is already very efficient

What support or troubleshooting options does your company offer after installation?

Service on your client's conveyors can be provided by both internal and external sources, depending on their current set-up. However, it's important for your conveyor manufacturer to also provide service and support when the need arises. More important still is the speed at which that service is provided, and in what format. The goal is to minimize downtime.
Choosing a conveyor system manufacturer is no simple task, particularly when you're facing a deadline. When you have questions about which equipment might be best for your project, lead time, execution, cost, and support, you may need a resource. So, we have provided a checklist of 26 of our recommended questions.
The Good News is Glide-Line Excels in

All These Areas
Once you've evaluated a potential manufacturer according to these factors, you'll soon realize that Glide-Line leads the industry in flexible, reliable, and cost-effective conveyor designs. You can use our configurator software to design your ideal solution, and with our industry-specific expertise, we'll walk you through different options available that can solve your unique challenges. Glide-Line's multi-strand timing belt and roller chain conveyors come with a host of options that ensure you can design an ideal material handling solution for your facility.
If you need a conveyor manufacturer that works with you to streamline your production line for increased efficiency, reach out to Glide-Line.