An efficient network of conveyor systems is essential to meeting the demands of the market and bringing your business to new heights. Getting products from point A to point B on the factory floor sounds easy, but that is not always the case when conveying wide products.
Conveying appliances, car exteriors, windmill parts, furniture, fabricated metals, or conveying construction materials can get tricky and complicated.
Wide objects with unique shapes that not only need to be transported across the factory floor, but also often have to face the challenge of a lack of space. Sometimes, there is no choice but to go vertical when you deal with obstructions and other machinery at the plant.
Five Common Challenges in The Industry When

Addressing Manufacturing Issues of Wide Products
Increasing the efficiency of manufacturing wide products is often a big challenge for engineers and the organization. Here are some of the most common pain points industrial manufacturers deal with:

Product Manipulation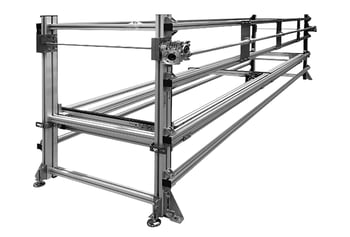 When working with wide products such as car door panels, fine furniture, and aerospace parts, manipulating them in the production line can be an extra challenge, if not next to impossible. However, it is often inevitable to lift them and rotate them if necessary to complete the job.
Glide-Line was tapped by a large automation systems integrator serving the aerospace industry. The challenge was to build a conveying system between existing systems to handle items that are 12 feet long, as heavy as 150 pounds and fragile. We configured an over/under-style conveyor to meet the demands of the client.
Precise Handling
Conveyor systems should not only be seen as tools for production but should also be seen as a quality assurance solution. With the need for precise handling, you avoid product-to-product contact that may cause damage to materials or even render them useless, which may hurt your ROI.
If you can benefit from a design like this , Zero Contact Zone Conveyor is an innovation by Glide-Line, an accumulation solution that eliminates issues like product contact. Each product has an individual zone, with the system controlling the movement of each zone to avoid jarring and product collision.
Customization
One big challenge when looking for conveyors is the different types of materials that will be handled by the system. Different materials, depending on their dimensions, weight, and other factors, will behave differently on the conveyor belt. This is why it is ideal to find a partner that can give you a conveyor system that can address your pain points.
Conveying solutions are not a one-size-fits-all. Depending on your needs, Glide-Line has a wide array of highly-configurable conveyor systems that can be customized to help streamline your manufacturing needs.
Floor Space
Not enough real estate translates to issues in conveyor configuration. Expansion at that point can only go vertical using vertical conveyors or vertical transport units.
With limited floor space, vertical lift conveyor applications come in handy. VTUs can be engineered to help solve unique manufacturing challenges in your conveyor system design.
Cost
Expansion of operations also means that capital expenses can add up quickly. It can be a challenge to find conveying solutions that work best for your application and offer the best value for your budget.
It's always helpful to get an idea of the potential costs of the ideal conveying system that you'll need for the job. Glide-Line's conveyor configuration tool, IMPACT! gives you the opportunity to build the design you want. The software provides useful details such as system capacity, part numbers, and pricing for the model you build and customize.
How Vertical Transfer Units Help Overcome Challenges of

Manufacturing Wide Products
If you want to increase the volume of production while keeping efficiency in mind, acquiring up instead of out could help! This is where Vertical Transport Units come in handy. Here are some examples of VTUs:
VTUs form part of the creative solutions needed for a product handling design for manufacturing wide products.
Highly Configurable
VTUs can complement your existing system for conveying wide products. These solutions are specifically engineered to handle different product sizes and maneuver them in tight spaces across your manufacturing plant. Whether you're dealing with car exteriors, trailer tire and wheel assembly, refrigerator doors, or sensitive aerospace products that require no contact, VTUs can be set up easily to meet your needs.
Easy to Operate and Maintain
Most of our VTUs make use of stepper or servo-driven actuators that give you the edge when it comes to positioning products. Whether multiple stops are needed, or dealing with heavy products, electric VTUs can be competitive versus traditional conveying solutions. Maintenance is reduced as electric actuators are inherently more reliable than pneumatic.
Cost-Effective
You are in control when it comes to configuring your conveying systems for wide products. This way, you waste no time and ensure the setup fits your needs.
When manufacturing wide products, you need to find a partner that thinks outside the box.
Glide-Line can Assist You with Your

Wide Product Conveying Needs
Glide-Line has the expertise and innovative technologies to assist you, whether you need to move wide products across, up, or down the production line.
Contact us today to learn more about our conveying solutions and how we customize it to help you gain the edge.