Your medical device manufacturer clients face all sorts of complex problems that have nothing to do with actually manufacturing products:
Quality requirements of 100% acceptable quality limits
Regulatory and compliance to government standards
Integration of IOT initiatives while ensuring data security
And all this while also overcoming the cost of product development, including the development of proprietary manufacturing processes.
When it comes to those proprietary manufacturing processes, it can be difficult to find a conveyor manufacturer that is built to not only understand the requirements your client has, but can also anticipate their future needs and pivot to customize existing lines at the same time.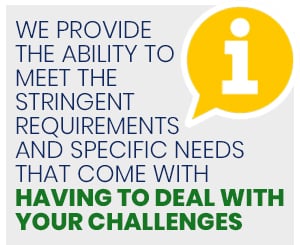 That's where Glide-Line comes in. We provide the ability to meet the stringent requirements and specific needs that come with having to deal with these challenges. We take the time to fully understand the requirements and needs, then work collaboratively with the customer. This hybrid relationship, both consultative and facilitative, works especially effectively for medical device manufacturers.
Here are some examples of how Glide-Line's team supports medical device manufacturers from inquiry to delivery and beyond.
Completely Customizable Solutions
Glide-Line conveyors are built to be completely customizable:
the length and width of the conveyor
the location and number of drives
the programmability of the speed of the belt
the belt material
the actual function and capabilities of the conveyor itself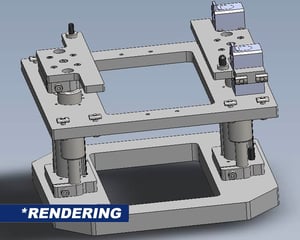 We build innovative conveyor solutions for a living. As an example, our open-center design conveyor is a solution used by many medical device companies. When it comes to assembling wires, tubing, or other product elements that need to hang down to avoid tangling or simply to accommodate the shape of the product, an open-center design can solve this problem. Instead of adjusting the pallet or customizing machinery to accommodate a multi-dimensional product, the product can simply run along the conveyor length. We've removed obstacles from the center of the conveyor entirely to support this need.
Fastest Lead Times in the Business
Typically, a medical device manufacturer is used to paying an arm and a leg for customized conveyors and assembly units, and the turnaround time is very long to accommodate the request. This isn't the case with Glide-Line. Because so many of our pieces, parts, pallets and other building materials are made to order, our process is built for speed. Our lead times are often 70-90% less than competitors', and we're not just saying that.
Complete Control Over Product Handling
I mentioned earlier that one of the benefits of medical device manufacturers and integrators working with us is that we first work to understand the full needs and scope of the project. There's no way to customize a conveyor to provide exactly what you need without this vital step.
Often, customers will come to us with a need to convey incredibly fragile products. These products may break or scratch easily if jostled. It's important that any automation introduced to this process handle these products with kid gloves, just as a person would do.
We have a number of solutions built specifically to meet this challenge. Not only can our conveyors be programmed to speed up and slow down gently, we also have a solution dedicated entirely to eliminating any contact whatsoever - the Zero Contact Zoned Conveyor. This conveyor operates by controlling each pallet as its own independent entity, so it's never depending on what's happening further up the line before taking an action. You can read more about this here. This technology can be combined with other functionality in our array of innovative solutions for a new, better automation solution for your medical devices.
Curious? We'd love to hear more about your unique needs for medical device manufacturing. Stringent requirements, special accommodations, and innovation challenges are our bread and butter. Challenge us to find your solution today!