At Glide-Line, VTUs are multi-purpose solutions used to creatively solve challenges other manufacturers have failed to solve. VTUs can be more than a simple application to move products vertically, just as conveyors can be more than a single-function piece of equipment to move products horizontally. Combining them has allowed us to apply creativity to challenges design engineers are asked to solve every day.
So, I was explaining one of our VTU solutions to a customer the other day and it dawned on me that many of the words I was using and the ways that I was describing that particular solution was mirroring a lot of the things that I have been hearing while watching the ESPN series about Michael Jordan and the Chicago Bulls, "The Last Dance".
There were three particular things, when discussing the VTUs, that I found are "like Mike" and one that is not... but it still works to our favor.
3 Ways Glide-Line's Vertical Transport Units ARE like Michael Jordan
They Have a Sweet Vertical
Everyone knows that Michael Jordan was a master at dunking a basketball. He would never disappoint when it came to crazy, impressive dunks and unbelievable hang-time. I mean, we're talking about "Air Jordan" here, so no one is surprised that the fact is he had a gift at getting vertical. Officially, Michael Jordan's vertical jump was measured in college at North Carolina. He reached a maximum running jump of almost 46" and vertical jump of 42″.
In the engineering world, you normally think you move things horizontally on a flat plane, and you lift devices using an elevator. Typically, you wouldn't think to use conveyors to move anything vertically. It's a new way of thinking to apply conveyors to vertical behavior. These are some examples of different VTU's and recent ways our integrator clients have creatively implemented our conveyor applications.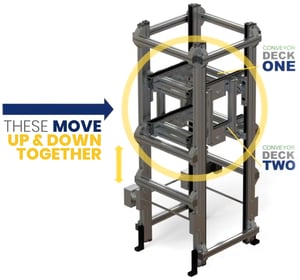 A double elevator is two lifts, or conveyor sections, contained within a single VTU footprint, which don't need to go up/down together. Instead, they can actuate independently. For example, it can move one product up while the lower unit remains as a pass through. The possibilities for this application are endless.
A variation on the multiple deck lift application, a rack feeder serves a specific purpose: storing product vertically until it's ready to be used. With this application, we're using multiple lifts within a single VTU footprint. Then, we unload the product, at the same time, from the lifts onto elevated conveyors moving in opposite directions. These conveyors feed the storage rack with the product trays or pallets. The rack feeder can also be reversed to retrieve the products when needed.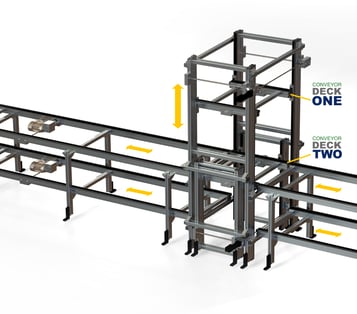 Bypass Lift
A bypass lift is similar to a double elevator, with the main purpose being increased throughput and space savings. Traditionally, a parallel conveyor workstation is needed in a process automation system for an operation to be completed; using a bypass lift to vertically shift the operation to a level above the main line keeps the product flowing efficiently while not requiring additional width to be added to the conveyor system. We typically see the use of multiple bypass lifts within one conveyor to perform the operation on multiple pallets throughout the conveyor.
Masterful Precision
Michael Jordan was as precise as they come when it came to shooting. He averaged 30.1 points per game during his career and was 84.5% from the free throw line. He is currently ranked as the fourth highest NBA scorer at 32,292 total points. As much as precision was one of Jordan's top strengths, precision is one of the top benefits when it comes to VTU's.
When a conveyor elevator is controlled by a servo motor instead of a pneumatic actuator, you're able to achieve multiple positions within the same elevator with precise motion control. The elevator can then be used to:
feed other conveyor lines,
fill a rack or stack application, or
lift a pallet to multiple precise heights to complete an operation.
Here is an example: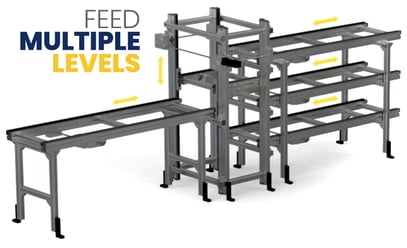 A window manufacturer needs to cut glass to various sizes for window assembly. There are potentially ten sizes of window glass to choose from in the manufacturer's automation process. Using a servo-driven elevator, the conveyor is able to go to any of those ten positions easily to select and pull the correct window size for their frame for the assembly process down the line. Multiple conveyor elevator positions are especially useful for a pallet handling system that conveys any products requiring a buffer or storage solution, including DVDs, soda, or products requiring a slow curing process such as paint drying or glue setting before starting the next step in the process. A lift is able to place these products in a storage setting for a set amount of time, and rotate them down when they're ready for the next step.

Increased Rate of Production
"I play to win, whether during practice or a real game. And I will not let anything get in the way of me and my competitive enthusiasm to win." Michael Jordan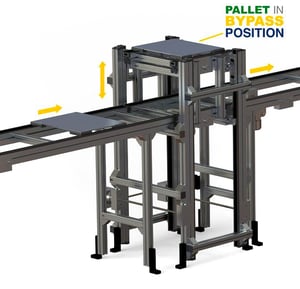 Michael Jordan's highest scoring game was in the 1989-1990 season when he managed to haul in 69 points in a single game for a win against the Cavaliers. Just like Jordan was able to raise his game and seemingly continuously increase his rate of production - his scoring. Glide-Line's VTUs offer many solutions to increase rate of production - or throughput.
A pass-through VTU lifts product up and out of the way of the main line, allowing for downstream product to bypass and get ahead. While it's raised above the main trunk line, work can be completed on the lifted product.
If your client's ultimate goal is to increase throughput, increased efficiency is the way to do so. The Glide-Line 360 conveyor can lift pallets from the main line while allowing more product to pass underneath the raised pallet. A function can be performed at the raised level, then the product can be added back to the operational process. This can be repeated at multiple levels, and at many points throughout the line.
Typically, this process would starve the line and leave a huge hole in the system, but using the GlideLine-360-based VTU concept, products can pass under the lifted pallet using a double elevator. Using access to different heights in the automation process significantly improves throughput without taking up additional space. Using VTUs to remove typically slow processes from the main line also improves throughput.
Using VTUs to remove slower processes from the main line also improves throughput. For example, inspection control can lift a defective product from the main line to make an adjustment or repair while good product keeps flowing underneath it using a pass-through VTU.
The 1 Way Our Vertical Transport Units ARE NOT like Michael Jordan
Our VTUs Have a Small Footprint
As huge as Michael Jordan was in the world of basketball, the size of his footprint is just as impressive. Kind of interesting, while in the NBA, the 6.5' basketball star typically wore mismatched sized shoes - a size 13 shoe on his left foot, with a slightly larger size, 13.5 shoe, on the right.
VTU's on the other hand, do NOT have a large footprint and that is why they are a perfect solution for solving the issue of limited floor space.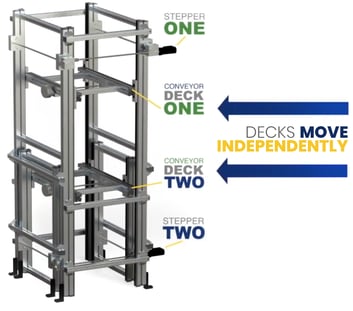 The most common way other manufacturers decrease their conveyor's footprint with a vertical transport unit is by creating an inverted return loop under (or over) the main line. But there's another space-saving design application for lifts... you guessed it, vertical transport.
We've used pallet elevators, sometimes multiple per line, to vertically transport a conveyor section or pallet up a small distance to a workstation just above the line. Then, a robot or employee can perform a parts operation directly on the elevated section. This effectively doubles (or triples) the number of workstations available on a single line by stacking them vertically. Traditionally, the only other way to accomplish this would have been to have additional lines side by side. Instead, integrators can improve efficiency without their conveyor's having to leave an imprint in their floor plan like that of a size 13 (or 13.5) shoe. All it takes is creatively incorporating VTUs in the system.
Want to learn even more about our Vertical Transport Units?
In this ebook, we explore challenges solved by VTUs and review innovative, real-world examples of how design engineers have developed creative lift-based solutions...