Determining whether our Roller Chain or Timing Belt solutions are a better fit for your application starts with understanding the benefits of each. Engineers from all industries love Glide-Line's versatile and customizable conveyor designs. Not only do you get the fastest lead times when you work with Glide-Line, but you also have complete design freedom to configure a system that solves complex manufacturing challenges.

Let's dive in below and look at the benefits that both the Timing belt and Roller Chain pallet and material handling conveyor systems bring to the manufacturing floor.
Timing Belt or Roller Chain Pallet & Material Handling Conveyor Systems:
Which Do You Need?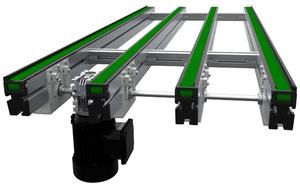 Glide-Line has two base conveyor systems available that share the same core benefits. The modular designs give engineers the flexibility to configure a system either using Roller Chain or Timing Belt conveying mediums. Both systems delicately move products with a smooth conveying motion and give you precise control for pallet and direct product handling applications.
The core benefits of both the timing belt and roller chain systems are:
Single, twin, and multi-strand designs to accommodate any size product or pallet
Gentle movement and precise control with smooth starts and dampened stops
Customizable with different accessories including

Vertical Transfer Units

(VTUs),

Rotators

,

Pop-up Transfers

,

AMR Toppers

, and more
Efficient design that doesn't introduce unnecessary complexity to the system and helps you save space in your facility
There are differences between the systems that will influence your decision when choosing between the Roller Chain and Timing Belt solution.

Why Choose the

Timing Belt

Material Handling Conveyor System?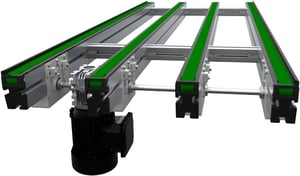 Our Timing Belt conveyors can handle most lightweight direct product and pallet applications even when working with wider dimensions. You get a payload capacity of up to 250 lbs. per strand with a polyurethane core T5 belt.
The Timing Belt conveyor gives you:
When is the

Roller Chain

Material Handling Conveyor a Better Option?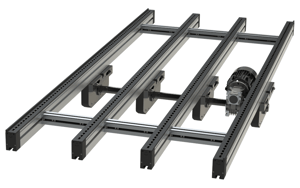 While the Timing Belt solution is ideal when conveying products like solar panels and lighter payloads, the Roller Chain option accommodates heavier-duty applications. You still get the same design freedom and all the benefits offered with our Timing Belt solution including the gentle movement and precise control you expect.
Instead of a traditional roller conveyor ,the Roller Chain utilizes free spinning product rollers that allow for easy accumulation of heavier payloads. The hardened steel carry rails make the Roller Chain conveyor suitable for heavier workpieces while the same multi-strand design allows you to configure the system for any width product.
The key features you get from our roller chain conveyors are:
A reversible design with a center drive that can be placed anywhere along the length of the conveyor help solve unique manufacturing challenges
Unique chain tensioning system that reduces the need for manual adjustment.
Utilizing the same outer dimensions as our belt conveyor, mixing and matching any of our conveyors and devices within the same system is a snap
With both the Timing Belt and Roller Chain conveyors, you have precise control over your product's movement, and you can include custom product manipulation features in your overall design. Not to mention, we have the shortest lead times in the industry so you can optimize your entire manufacturing process quickly.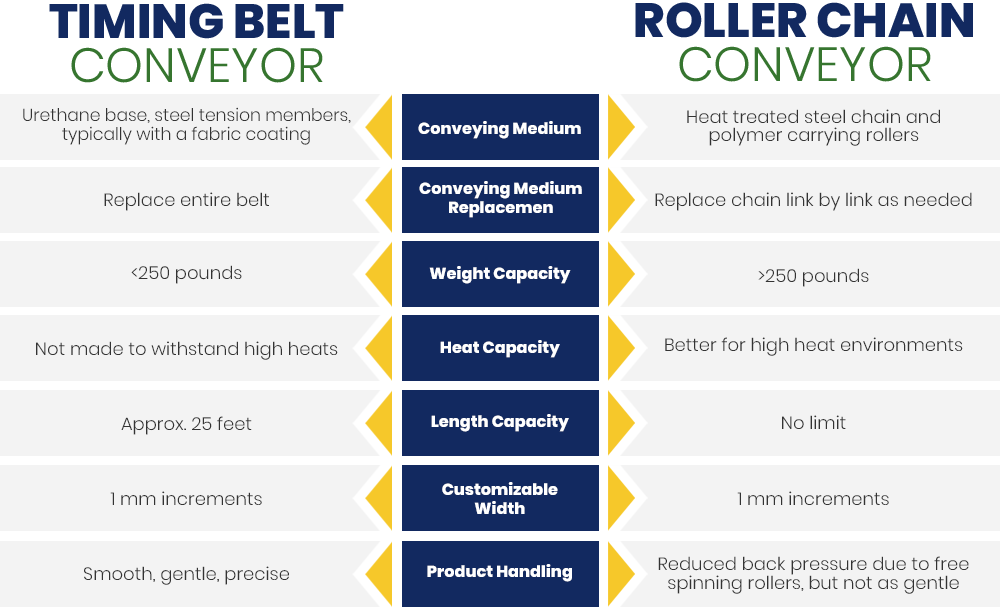 Design Your Ideal Conveying System

with Glide-Line's Timing Belt and Roller Chain Conveyors
We've revolutionized what's possible in the industry with our multi-strand, customizable, and cost-effective conveyor designs. For application engineers that have to solve complex manufacturing challenges and material handling applications, our conveyors give you the design freedom you need to automate your processes for smooth, gentle, and precise movement of every product or pallet on the line.
If you want more information about whether the timing belt or roller chain conveyor is the best option for your application, contact Glide-Line today.