"Glide-Line's Zero Contact Zoned Conveyor is a non-contact, product friendly and elegant solution to solving issues associated with accumulating product back to back. This solution will create significant energy savings, much less wear and tear, and handle products with much more care and control than a traditional accumulation approach." Kevin Mauger, President, Glide-Line
Souderton, PA, March, 2017 – Glide-Line™, manufacturer of the most versatile pallet-handling and multi-strand panel conveyor solutions available in the industry, introduces Glide-Line Zero Contact Zoned Conveyor, an innovation in assembly conveyor technology.
The Zero Contact Zoned Conveyor is a gentler, more reliable and energy efficient conveyor solution by eliminating 100% of backpressure caused by accumulation.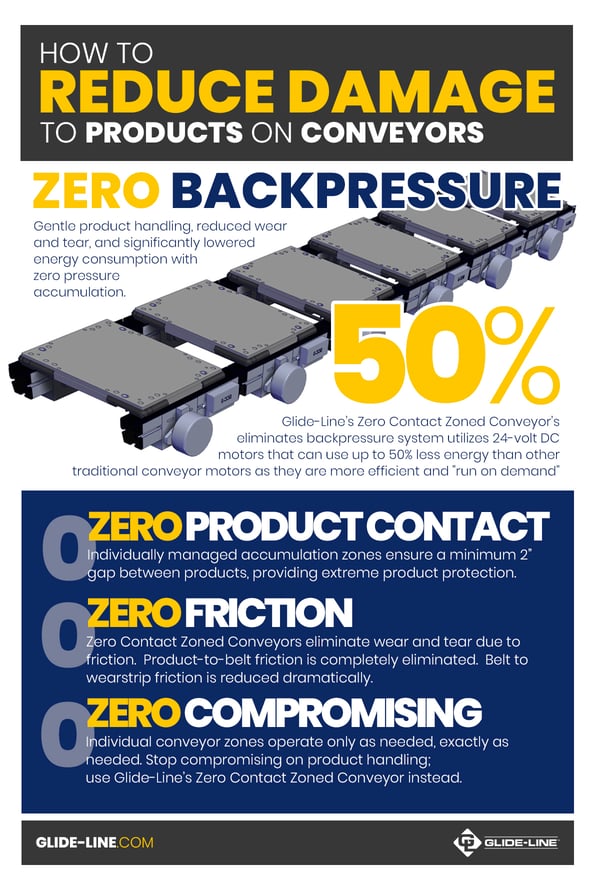 With traditional conveyors, there is often backpressure from upstream pallets bumping into each other and stacking up, which can compromise product integrity and quality. Motors running continuously, regardless of actual conveyor requirements, cause extra friction, unnecessary wear and tear on the entire system including bearings, belts and motors, effectively reducing the life of the entire system. Continuously running the conveyors also wastes energy.
With Glide-Line's new ZP Zero Pressure Accumulation Conveyor, motors only run when a
product approaches and has a permissive from downstream, maintaining a gap between products so no backpressure is created. Each accumulation zone is powered by a 24VDC brushless motor and can handle loads up to 200 lbs. each. The motors are daisy-chained to one another and each one uses its own driver card completely with integrated "zero contact" logic, including inputs for local sensors.
With individually managed accumulation zones, Glide-Line's new Zero Contact Zoned Conveyors ensure there's always a gap between products. Integrated zero-contact logic enables gentle product handling by turning motors on and off as needed, greatly reducing wear and tear on the motors and the conveyor itself. The brushless DC motors used in the Zero Contact Zoned Conveyors are virtually silent and rated for 300,000 hours each.
Glide-Line is a brand fully owned by the parent company NCC Automated Systems, a 30-year-old food and packaging line integrator. Glide-Line comes to the market with a fresh new customer friendly perspective with faster lead times, flexible designs and it's amazing IMPACT configuration software filling the void for configured conveyor assemblies. Finally, here are 12 Questions To Ask When Selecting A Conveyor System Manufacturer to consider.