The Lift & Locate: the go-to solution for locating during assembly. But what happens when your customer's process is a little outside the norm?
Whether it's a unique product, process, position, or proportion, Glide-Line's custom solutions are always available. We provide a number of Lift & Locate conveyor units out of the box, but can customize any of them to your customers' specifications: product weight and/or size restrictions, space limitations, or nearly anything specific to your customers' applications. The best part? We can even give you the tools to customize the engineering designs yourself. But we'll get to that later! First, some examples:
The

Low Profile

Lift & Locate Unit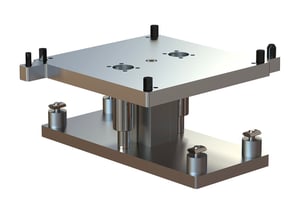 Our Low Profile Lift & Locate Unit is a low cost way to lift and locate a product or pallet for human interaction assembly. Since the unit is only lifted 1.5 millimeters off the line, it is safe for human interaction. It's also great for over/under applications, where things need to pass under to continue down the line. This unit is capable of repeatable, positional accuracy within +/- .05mm and is scalable in 1.0mm increments. Like our other devices, this unit is also customizable for different applications, apart from the height of the lift.

The

Heavy Duty

Lift & Locate Unit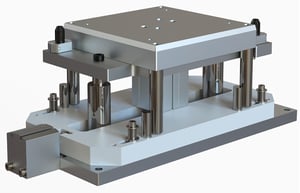 The Heavy Duty Lift & Locate Unit is built to withstand pressure from automated press operations, such as swaging and ultrasonic welding. The anvil raises the platform 1.5 millimeters above the belt precisely and predictably, and includes a pneumatic shuttle lock for heavy load absorption. This allows all operations to stay directly on the line, adding efficiency to the overall process. For more on this unit, read our post, How A Heavy Duty Station-Locating Device Solves Weight Distribution Challenges in Operations.
The Lift

Position Kit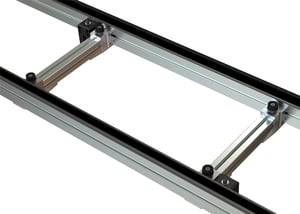 The Lift Position Kit is the most cost effective lift option of these four examples. Similar to the Low Profile Lift & Locate Unit, the Lift Position Kit is pneumatically operated, but it is built to support a larger pallet size. It can lift the pallet 1.5mm off the belt with a location accuracy of +/- 0.05mm. This unit is also scalable in 1mm increments.It can lift very precisely in 0.05 millimeter increments. The Lift Position Kit can be configured in three ways, and you have the choice to use all three functions, or just one:
Lift only
Locate only
Lift and locate
This device mounts directly to the bottom of the conveyor T-slot. The size of the pallet is completely configurable.

The

Standard

Lift & Locate Unit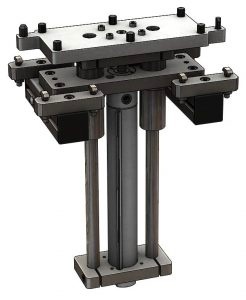 Built for interacting with a cobot or robot, the Standard Lift & Locate Unit is built for those who need precision with a vision system. This unit lifts in 0.05 millimeter increments, and can lift above the conveyor between 1.5 and 200 millimeters. It's pneumatically actuated and has hydraulic shock absorbers for smooth vertical motion.
If your customer has a particularly fragile product, we recommend starting with the Standard Lift & Locate Unit and customizing it. For more information on our versatile Standard Lift & Locate Unit, read our blog post about it.

The

Open Center

Lift & Locate Unit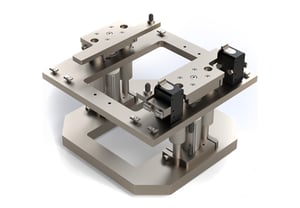 Our Open Center Lift & Locate Unit has the same capabilities as the Standard Lift and Locate. When placed on our Open Center Design conveyor, we remove the center to accommodate unique products with pieces that hang down or shapes that don't sit well on flat surfaces. It's just one more way we support application and design engineers with unique options.
In-Context Customizations

in

Engineering Designs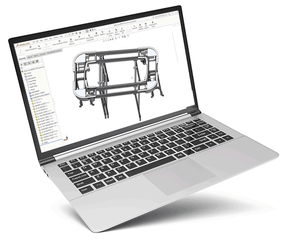 Our in-context configurator, IMPACT! (Interactive Modeling Program and Application Configuration Tool), goes far beyond a typical 3D CAD conveyor configurator. It uses Excel and integrates with Solidworks, so you're using tools you already know to customize your own Lift & Locate Unit, complete with instant pricing.
The Excel version of IMPACT! uses your system configuration data to recommend the best-fit options, so you know that your conveyor system will meet your application requirements. And with real-time pricing feedback, you see - instantly! - how various options affect your system price.
Don't take our word for its ease of use. Here's an example of how you can use IMPACT! to configure a Lift & Locate Unit:
We have endless possibilities for customizations and configurations we can make to our lift and locate conveyor units specific to your customers' processes. These are just a few examples of units that started as configurations for our integrator customers, and have become popular standards in our line. Contact us today to see how we can help.