Many automation processes require accumulation strategies to ensure the optimal conveying of products with an atypical movement on the line. It is especially useful for facilities that accumulate products on totes or trays. Often, these are fragile products that require sensitive handling.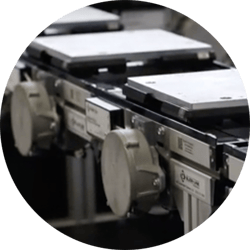 Glide-Line's Zero Contact Zoned Conveyors solution is perfect for these challenges. This zoned conveying system allows you to design an accumulating strategy that moves products into distinct zones without the products ever touching.
Create buffer zones for downstream operations or end-of-line queuing. You can also design your Zero Contact Zoned Conveyor to make up for asynchronous inline operations to streamline operations.
Tips For A
Better

Accumulation Strategy

When Conveying Totes and Trays

Accumulation has long been causing problems for facilities that use conveyors in their production lines. Until recently, you've probably struggled to find a cost-effective solution.

That is why Glide-Line developed its conveyors to solve the most common yet challenging issues your production line faces every day. The design of these conveying systems ensures gentle stops and smooth starts for production lines with or without workpiece pallets.
Opt for a Customizable System
Few conveyor manufacturers enable you to customize your buildout, but Glide-line offers truly modular solutions that ensure you get the conveying system that meets your exact specifications. Removing clunky, single-step equipment in your automation process allows for efficient solutions to combine multiple steps into one elegant device. We've done exactly that and given engineers and manufacturers precision control over the movement and specifications of each one.
Glide-Line designed these systems with modules you can replace, rearrange, remove, and reintegrate with minimum effort and without requiring additional equipment. It delivers the ultimate flexibility in design and configuration.
Elevating Your Design Development Using IMPACT!
The best way to improve your accumulation strategy is to be able to design your conveying system. No one knows your production line better than you. Glide-Line offers its interactive tool called IMPACT! - a 3D CAD Configurator built with application and design engineers in mind.
It's free to use, works with Excel and/or SolidWorks, and has millions of standard configurations. It features location customization for drives, legs and cross-members, and splice points, all of which add up to nearly infinite possibilities for a perfect design configuration for your application.
Plus, you can instantly evaluate throughputs, weights, lengths, and heights handled by the conveyor you design through the Excel-based application review tools.
Solve Your

Accumulation Challenges

with a Zero Contact Zoned Conveyor

Convey totes in and out of work cells with a zoned conveying solution that gives you the precision control you need to make sure every product is where it should be right on schedule.

With the Zero Contact Zoned Conveyor from Glide-Line, you won't have to sacrifice throughput for better accumulation strategies. Improve lead times, move atypical products, and ensure your operation runs smoothly without unnecessary stops with Glide-Line's custom conveyors.

If you're looking for a better accumulation strategy for totes, contact us at Glide-Line to discuss which solution is right for your operation.